Vietnam is the fastest growing golf market in the world and some of the best golf course designers have built or are building some iconic golf courses.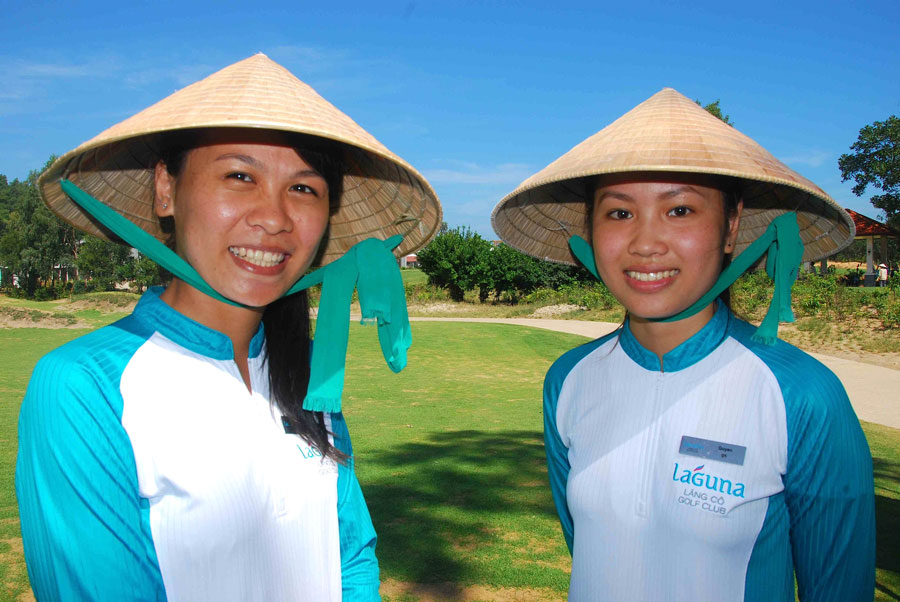 Vietnam took some time to wake up from its troubled history and the development of its golf courses lagged far behind its more developed neighbours such as Thailand. This is changing fast and Vietnam is home to some of the best golf courses in Asia and even the world and this rapid development is set to continue with plans to build 50-60 new golf courses across the country over the next 5 years. The most famous golf courses designers in the world have given their names to many of the golf courses in Vietnam and as you would expect many of the courses they designed make this list including Greg Norman, Colin Montgomerie and Luke Donald. What is perhaps more refreshing is that many of the designers on this list are completely unknown which proves that you don't have to be a great golfer to design a great golf course. Well here is our take on the top golf courses in Vietnam – in no particular order and we would welcome your thoughts if there is a course that you think we have missed off the list.
Hoiana Shores brings the design genius of Robert Trent Jones Jr. to Vietnam with thei wonderful links course.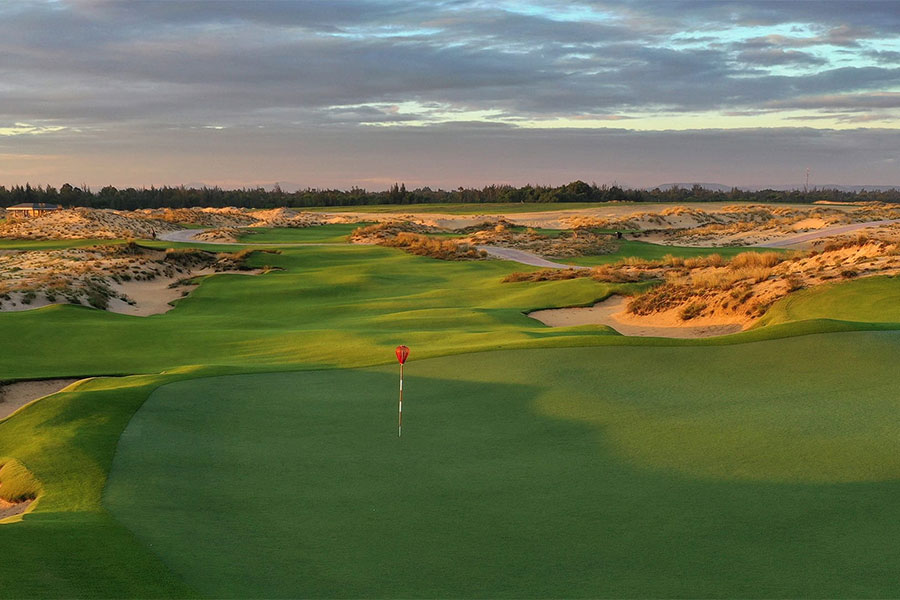 Offering majestic views of the Eastern Sea and Cham Islands, Hoiana Shores Golf Club (HSGC) offers a thrilling links golf experience for golfers of all levels. With a spectacular natural seaside setting, a luxurious clubhouse and 18 challenging-yet-rewarding holes, this is a must-play course for any golf enthusiasts visiting the region.
Robert Trent Jones Jr. is regarded worldwide as "the father of environmental golf course design" for his surprisingly low impact on the landscapes he works with.
"Wonderful Greg Norman design in breathtaking location - contender for best golf course in Vietnam"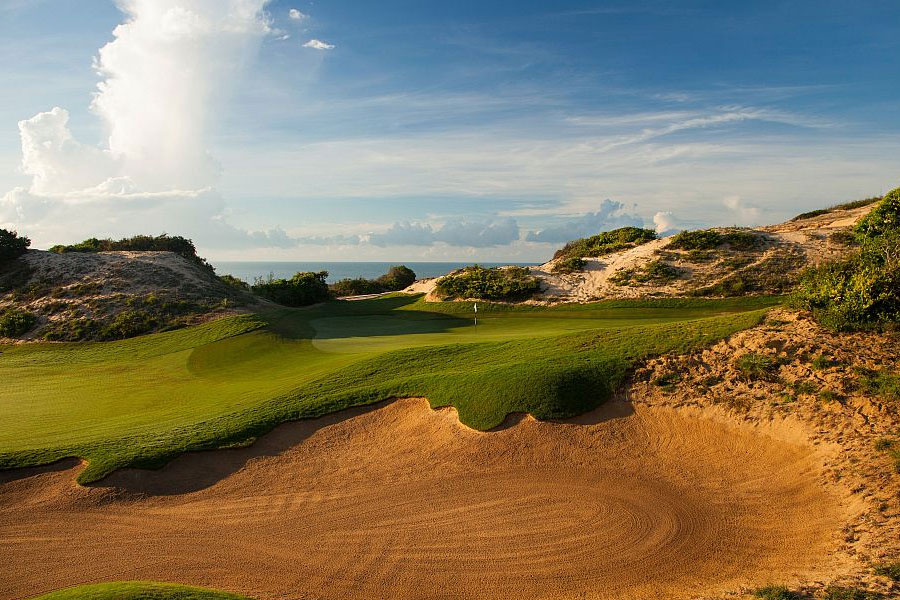 The Bluffs Ho Tram Strip was designed to replicate the type of links golf found in Scotland and you muts play here is you are visiting Ho Chi Minh on a golf holiday. Like most famous links-style courses it's been built around huge sand dunes which have been moulded by the elements over many thousands of years. You have to cope with the wind which is always quite strong but it comes from a different direction as the seasons change which can completely change the character of some holes. Another feature of this courses are the dramatic ocean views from many of the holes which makes this one of the most spectacular golf courses in the world. You will need every club in your bag to successfully negotiate this courses and you need to be able to draw and fade the ball in order to register a decent score. If you do play here I would not worry about your score and most people playing it for the first time do not manage to tame it so our advice is to admire the amazing views and enjoy the perfectly manicured fairways and pristine greens framed by the ocean. The modern purpose-built clubhouse features a large and well-stocked pro-shop, a large restaurant with great views over the golf course and the ocean and luxurious locker rooms. Excellent practice facilities if you want to tune up your game. There is a hotel and casino nearby if you would like to stay overnight before heading back to Ho Chi Minh.
Location: 125 kms south-east of Ho Chi Minh
Birdies: Wonderful views and great clubhouse facilities
Bogeys: The long drive from Ho Chi Minh – at least two hours
Favorite Hole: The par-3 4th - short but very difficult, especially in windy conditions
KN Golf Links, Cam Ranh
Greg Norman's third course in Vietnam built alongside an 8km stretch of coastline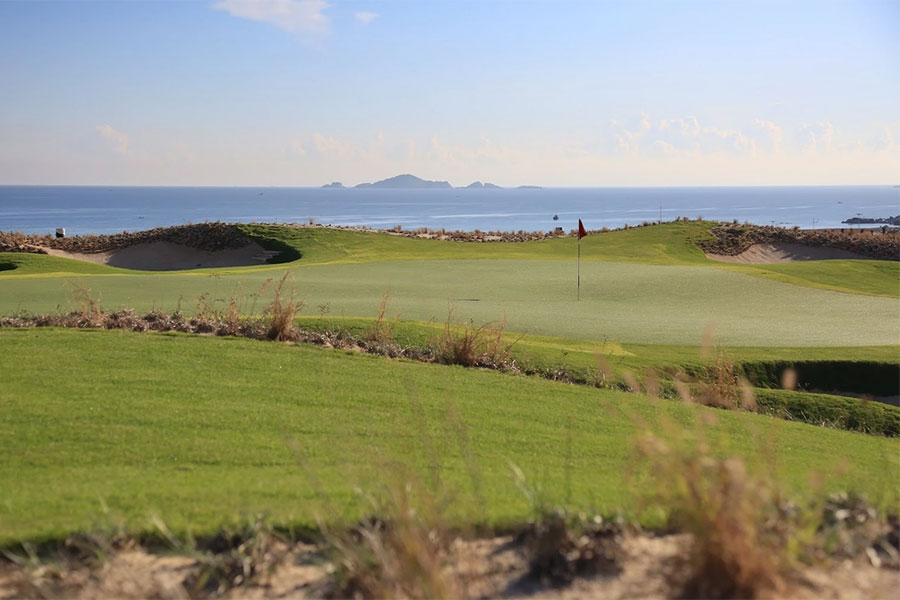 KN Golf Links, located in Cam Ranh, Vietnam, is a golfing gem that has quickly earned a reputation as one of the finest links-style courses in Asia. Designed by the legendary Greg Norman, the course features a stunning layout that meanders along the coastline of the South China Sea.
The 27-hole championship course offers breathtaking ocean views, expansive fairways, and strategically placed bunkers. Golfers can enjoy a challenging yet enjoyable experience with the course accommodating players of all skill levels. The course's design is environmentally conscious, embracing the natural landscape and preserving its rugged beauty.
The modern clubhouse at KN Golf Links offers a relaxing environment with spectacular ocean views and a fantastic dining experience. The course has hosted various international tournaments, making it a favorite among golf enthusiasts and a must-visit destination for those seeking a memorable golfing experience on the picturesque shores of Cam Ranh.
Location: One hour flight northeast of Ho Chi Minh
Birdies: Fantastic views and excellent clubhouse facilities
Bogeys: The prevailing wind which can make play very tricky
Favorite Hole: The par-4 5th measuring 541 yards from back tees
"One of the most famous courses in Vietnam and the only one with Bent grass greens and fairways"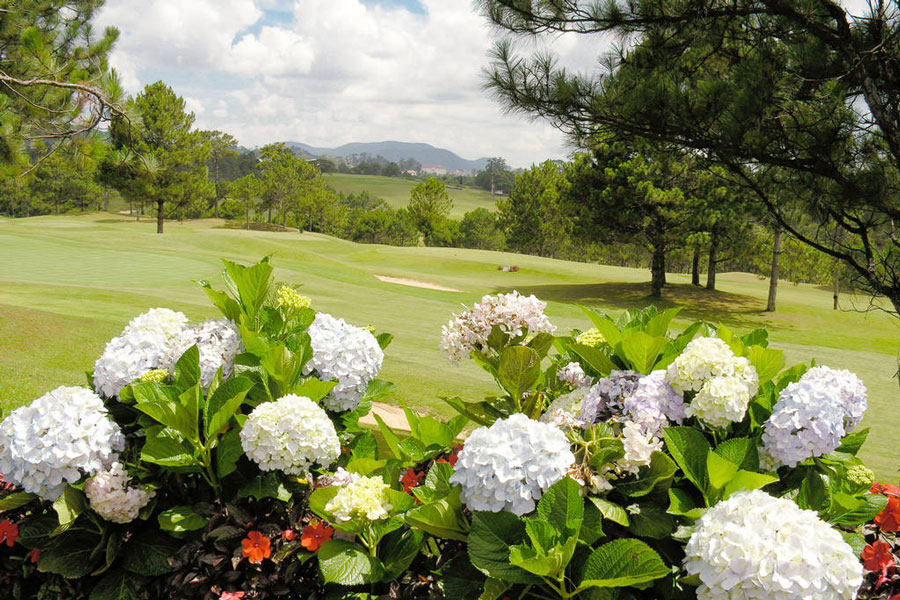 This is one of the most famous golf courses in Vietnam for a number of reasons – it's the only golf courses in Vietnam with Bent Grass greens which thrives in the cooler climate of Dalat and is a type which is usually found only in Europe. Its also the oldest golf course in Vietnam and was originally built by the French in the 1920's at the height of their colonial era. The golf course has undergone many changes over the last 90 years – it was abandoned after WW11 and again in 1975 and it wasn't until 1994 that it was restored to its current condition. Since then it has won numerous awards and although it now has some illustrious competition in other parts of Vietnam it still remains one of the most unique golfing experiences in Asia. There are plenty of elevation changes as you make your way around the course which is sprinkled with pine trees which are native to this area. The course is in excellent condition and the greens are a delight to putt on. They have a beautifully restored club house which dates back to the mid-fifties and serves excellent local and international food. Practice facilities are available as well. Still the best golf course in Dalat.
Location: A short distance from the centre of Dalat
Birdies: Cool weather and Bent Grass green & fairways
Bogeys: Rental equipment is expensive and poorly maintained
Favorite Hole: The par-3, 5th holes – 230 yard carry over water
"Another Greg Norman masterpiece offering a true links experience in the heart of Vietnam"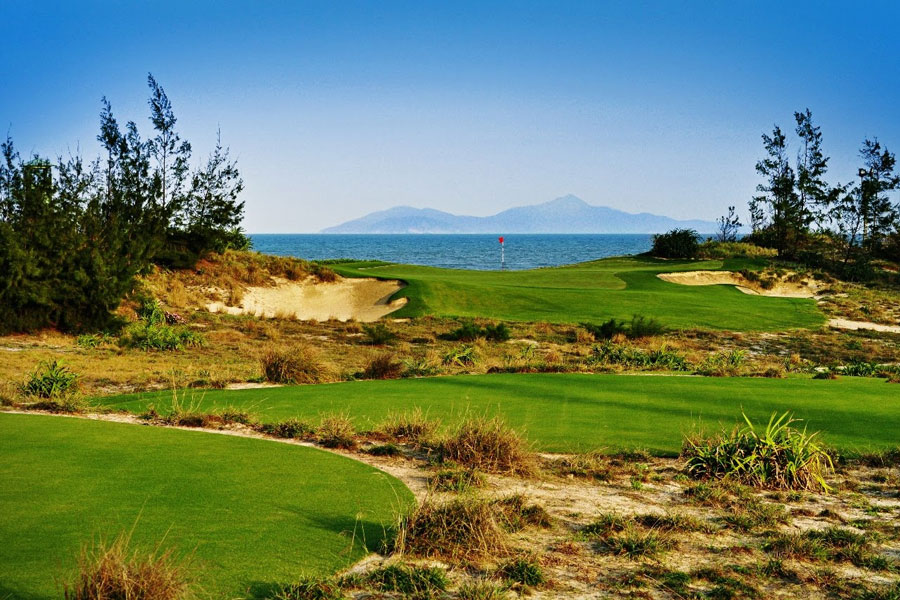 Greg Norman has built yet another wonderful links-style course in Danang which we think would make a list of the best golf courses in Asia and is certainly the best golf course in Danang. The course has been built on the rolling sand dunes which are typical of this part of Vietnam a short distance from the famed "China Beach" a favourite R&R spot during the Vietnam War. Ironically, although it's not far from the sea you will not encounter much water actually on the course and not many of the holes play beside the beach but you will encounter plenty of sand which is why it is often referred to as the Dunes Course.
The tightly cut fairways are reasonably wide so if you can keep it straight then you will score well but if you drift off line then you can end up amongst the needle pines which line the course. Its sometimes difficult to recognise where the course ends and the surrounding scrubland begins as the course blends so beautifully with the surrounding countryside. The fairways are firm and quite bumpy and during dry conditions you will get plenty of run on the ball and you can also quite easily take out your putter some distance from the green. Another obstacle which is also typical of most links courses is the prevailing wind which, as it changes direction can dramatically affect your club choice and require some creative shot-making. Great variety of holes from some epic par 5's zigzagging though the dunes and the 16th which is the signature par 3 with the green right beside the beach framed by the ocean. Very modern clubhouse and extensive practice facilities.
Location: 15-20 Minutes from centre of Danang
Birdies: Wonderful views and great clubhouse facilities
Bogeys: Can get overrun with Koreans over their winter season
Favorite Hole: The par-3 16th – difficult club selection due to changeable winds
FLC Quy Nhon Golf Links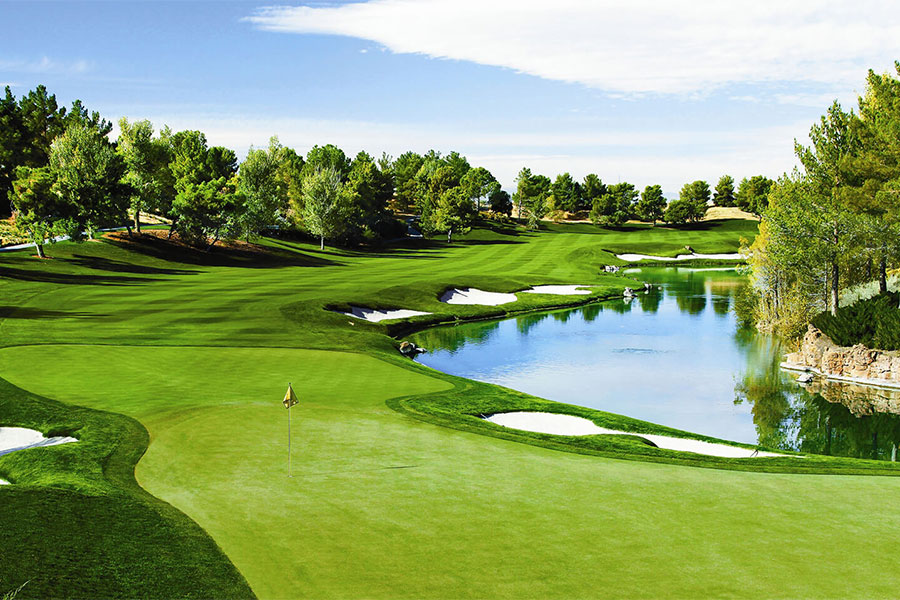 FLC Quy Nhon Golf Links, situated in the coastal city of Quy Nhon in Vietnam, is a golfing haven that exemplifies natural beauty, luxury, and world-class golfing. Designed by the renowned Nicklaus Design team, this 36-hole golf complex is a masterpiece of golf course architecture.
The golf course is divided into two spectacular courses: the Mountain Course and the Ocean Course. The Mountain Course presents a challenging round with undulating terrain, water features, and well-placed bunkers, while the Ocean Course offers breathtaking views of the East Sea, with holes that run alongside the coastline. Both courses incorporate the region's natural beauty, from cliffs and dunes to native vegetation.
FLC Quy Nhon Golf Links prides itself on its commitment to sustainability, with a meticulous approach to course maintenance and eco-friendly practices. The golf club's modern clubhouse offers a serene setting with panoramic views, and it's an ideal place to relax and enjoy the ocean breeze after a round.
Beyond golf, the FLC Quy Nhon complex also features luxurious accommodations, a water park, and a range of dining options, making it an all-encompassing destination for golfers and travelers looking for a memorable experience on Vietnam's captivating central coast. The golf club's commitment to excellence, combined with its natural beauty, creates an unforgettable golfing experience in Quy Nhon.
Location: 90 minute flight north of Ho Chi Minh
Birdies: Wonderful views and great clubhouse facilities
Bogeys: Its a long way to go for a round of golf
Favorite Hole: The par-4 6th – aim for the dune with your tee shot
"Europe's Ryder Cup hero has built a course worthy of his illustrious reputation - a Monty masterpiece"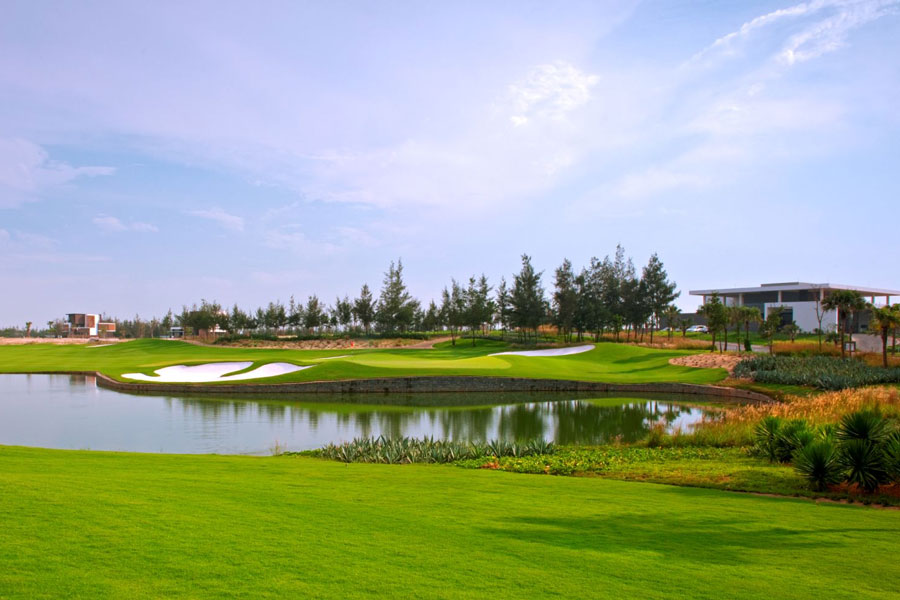 Although this course is quite close to Danang Golf Club and has essentially been built on the same piece of land it does have a different feel and appear more manicured than its illustrious neighbor. Don't get me wrong - Monty has designed a wonderful links course but it doesn't blend into the surrounding countryside quite as well. Built in the shadows of the famous Marble Mountains, it's a wonderful championship golf course named after champion golfer and Ryder Cup hero, Colin Montgomerie who has managed to create a little bit of his native Scotland but thankfully without the weather. The course makes full use of the sand dunes and the local plant life to offer a very challenging layout which combines undulating fairways, huge greens and some cavernous bunkers – especially on the 7the and 13th holes. Not too many trees around but if you get off line you can end up in some quite thick rough and the streams which meander through the courses can also catch you out. They have a Golf Academy onsite which not only offer all the expected practice facilities but the latest high-tech gear to analyze your swing. You will certainly appreciate the excellent caddies to guide you around the course the first time you attempt it. A large modern clubhouse serving excellent food from the restaurant overlooking the courses completes the picture.
Location: 15-20 Minutes from centre of Danang
Birdies: Wonderful views and great clubhouse facilities
Bogeys: Can get overrun with Koreans over their winter season
Favorite Hole: The par-3 16th – difficult club selection due to changeable winds
"A real hidden gem on a beautiful island with ambitions to develop into the top golf resort in Vietnam"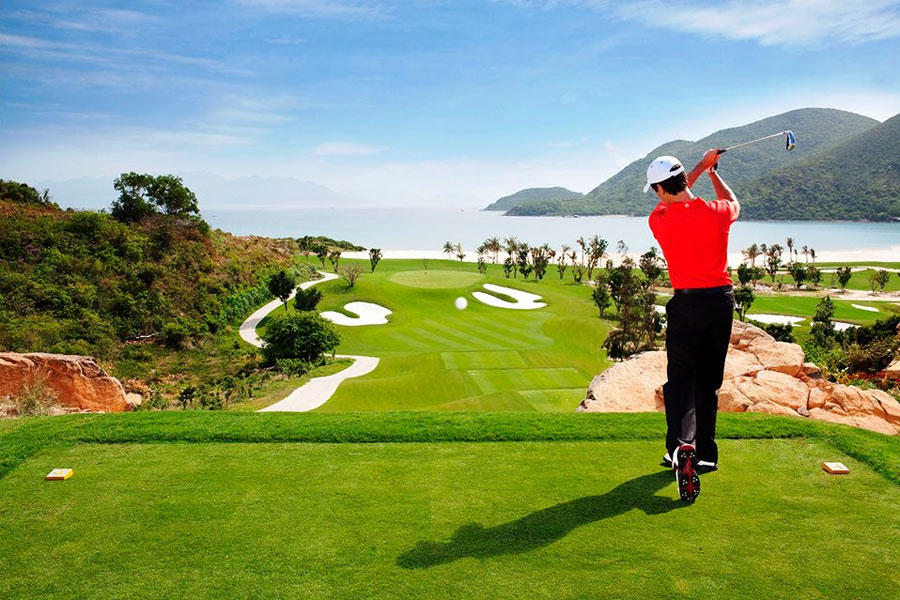 Phú Quốc is a Vietnamese island in the Gulf of Thailand just off the west coast of Cambodia. It's only about 50 km long and 25km wide and its renowned for its white-sand beaches and there are plans to build a golfing complex similar to Mission Hills in China. They have recently opened an international airport here and you can fly in direct from several Asian cities. Vinpearl Golf Club Phu Quoc is a visually stunning golf course which has been cut out of the forest to create 27 holws which meanders between the many water hazards. Two of the nines, Forest View and Mountain View, play through the forest areas which encroaches on both sides of the fairway whereas the other nine (Seaview) is more open and circles some of the larger lakes on the island. The three courses present the golfer with slightly different challenges resulting in a wonderful 18 holes regardless of which of the three 9's you choose to play. The service and facilities in the clubhouse are outstanding with a superb caddy service that you need to experience to appreciate the quality of the advice on offer. The female caddies are very well trained and offer excellent advice on how to negotiate the golf course. The clubhouse facilities are a bit small but cater to most golfer's needs. This is a really special course and if they build the other courses in the area to a similar standard then Phu Quoc Island is sure to become a major golfing center.
Location: One hour by air from Ho Chi Minh
Birdies: Incredibly beautiful natural location
Bogeys: Rather small clubhouse
Favorite Hole: 4th hole on Seaview – challenging dogleg par 4
"Luke Donald's first design project and one of few courses that has floodlit all 18 holes"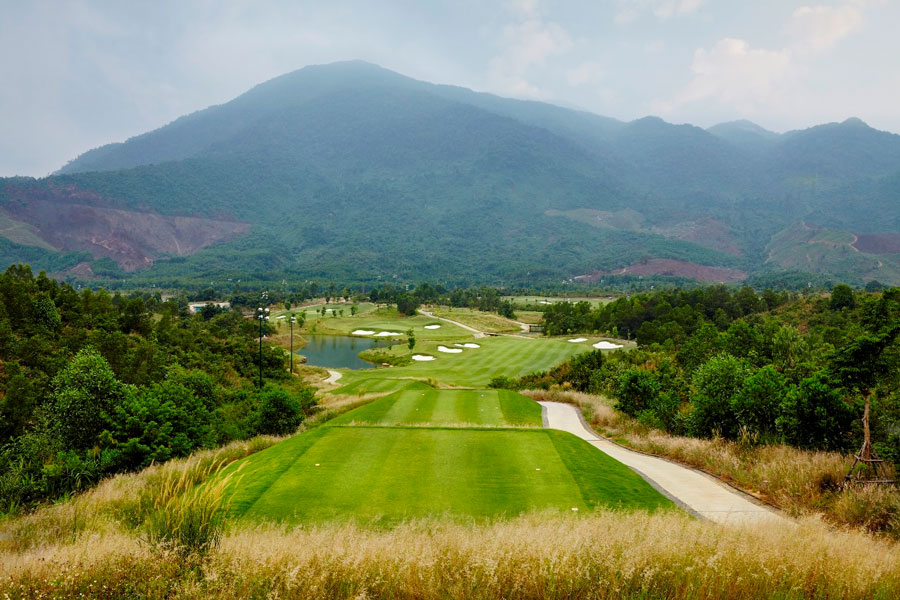 This is the newest kid on the block and is rapidly earning a reputation as one of the best golf courses in the area. The course is unique for a number of reasons – it's the first course in the world which carries the name of the former number one golfer, Luke Donald and it's also the first and only course in Danang which has floodlights covering all 18 holes. If you suffer in the hot weather, then you can tee off in the late afternoon and play under lights in the cool evening temperatures. Ba Na Hills Golf Club is a mountain-style course with plenty of elevation changes and a great variety of landscaping with superb views from many of the tee boxes framed by the surrounding hills. It's quite along course measuring just under 7,900 yards but most golfers, whatever their handicap, will enjoy playing here. The opening 9 holes are a more traditional and flatter parkland layout but things get more difficult and in some ways more interesting on the inward nine with more undulations and doglegs meaning you will be reaching for most of the clubs in your bag. The club is very professionally managed by IMG so you can expect service of the highest standards. Excellent, modern clubhouse facilities with grass practice areas, well-stocked pro shop and goof restaurant offering tasty Vietnamese food.
Location: A 40-minute drive from Danang
Birdies: 18 Holes of night golf
Bogeys: Nothing we can think of
Favorite Hole: The par-3 12th hole – great views from tee box
"An amazing golfing complex earning rave reviews from all that play here - Hanoi's top course"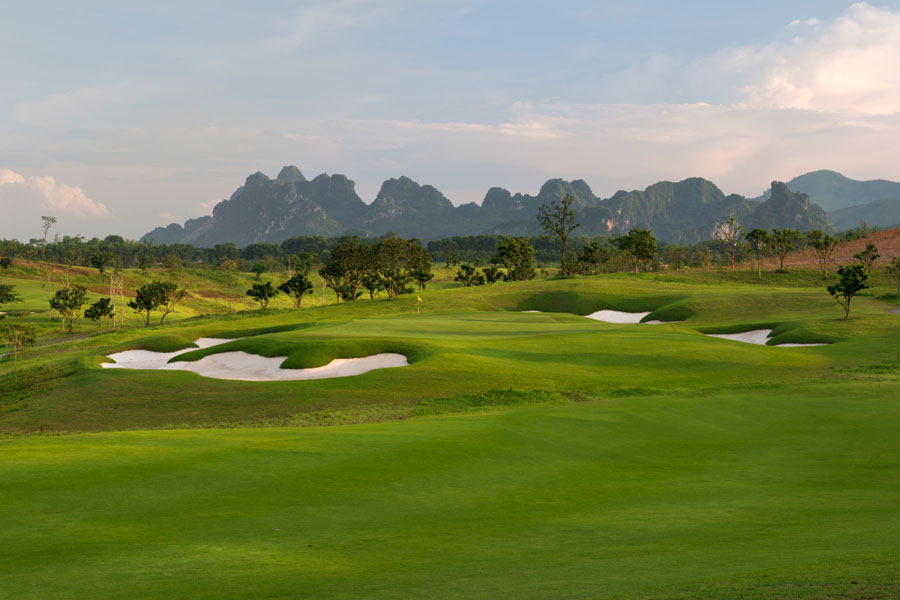 This is a fantastic golfing complex offering 36 holes of wonderful championship golf: the Sky Course and the Lakes Course and we think this is one of the best golf courses in Hanoi. The Lakes Course was twice voted the most difficult golf course in Vietnam by the Vietnam Golf Association and is a members-only course but the slightly easier Sky Course is open for everyone. The Lakes Course, as its name suggests, offers some quite dramatic elevation changes but many of the holes skirt the large lake which dominates the centre of the golf course. The reasons this course got its reputation for difficulty are the thick rough that lines many of the holes, the large multi-tier greens with severe run-off areas around many of them and the cavernous bunker complexes which protect many of the holes. Unfortunately, unless you know a member, you will not get to play the Lakes Courses as it is closed to visitors. The Sky Course is a lot easier and follows the natural topography of the landscape and has more generous landing areas and slightly more forgiving greens. This does not mean that this course is super-easy and the 15th has been named after Dien Bien Phu, one of Vietnam's most famous battles and reflects the challenges that await. The club features a large, modern clubhouse with excellent restaurant and luxurious changing rooms and a Vietnamese Restaurant with views over the courses and the surrounding area.
Location: A one-hour drive from Hanoi
Birdies: Spectacular views from many parts of the course
Bogeys: Only members can play the Lakes Course
Favorite Hole: The 15th on the Sky Course
"A beautiful mature golf resort offering 54 holes in a beautiful island setting not far from Ho Chi Minh"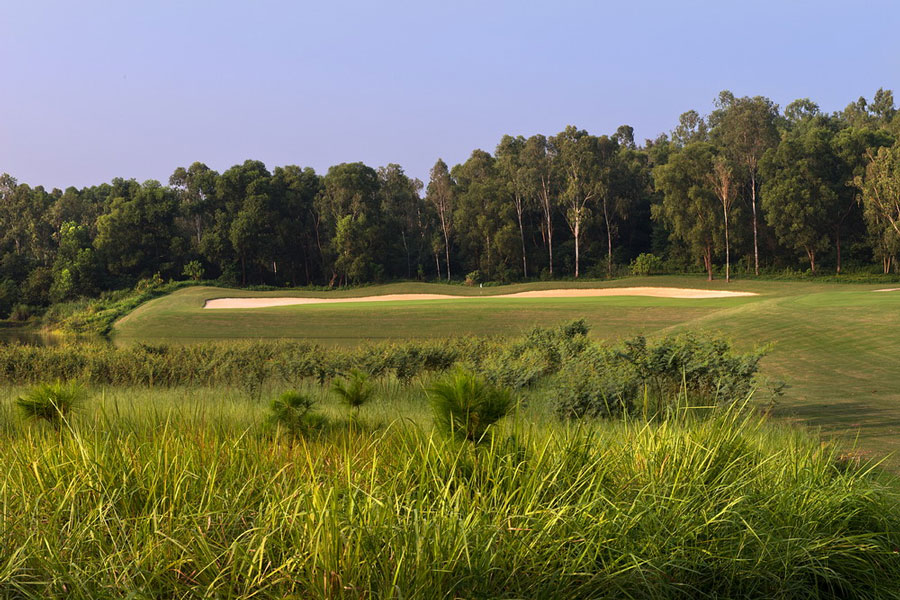 The recently renamed BRG Kings Island Golf Resort is another 26-hole golfing complex about one hour outside the city and you need to take a short boat ride to reach the course as it is surrounded by the Dong Mo Reservoir. The Lakeside Course which was designed by Robert McFarland, covers two islands and has made clever use of the natural water hazards and the original terrain and you can enjoy great views of the distant mountains that ring the Red River Valley. It should come as no surprise that water comes into play on all but five of the holes and you will be faced with many water carries to quite small target areas. The Mountain Course starts out by meandering though the mature trees which line both sides of the fairway and then the course opens out and more water hazards are in evidence. More of the same on the inward nine but most of the holes have very generous landing areas and unless you are very wayward you should not have too many problems negotiating the fairway bunkers. A large clubhouse awaits you as you get off the ferry which offers all the services and facilities you would expect from such a famous club.
Location: A one-hour drive from Hanoi
Birdies: Wonderful setting and great views
Bogeys: Inconsistent service standards from staff
Favorite Hole: 18th on Mountain View Course – dogleg par 4
"One of the first golf courses to open in Vietnam and still one of the best in Ho Chi Minh"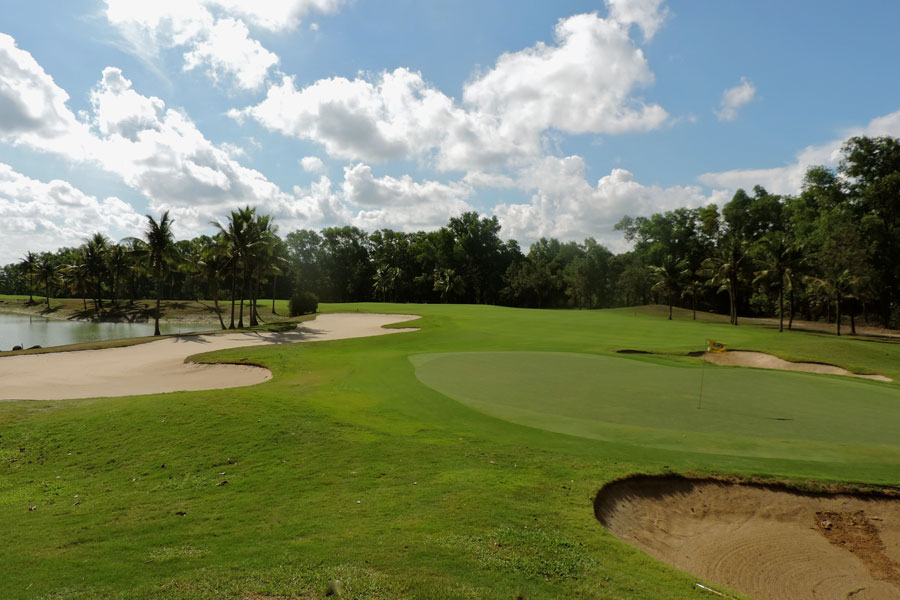 Vietnam Golf & Country Club is the grand old lady of Vietnam golf and was one of the first golf courses to be built in Ho Chi Minh and the West Couse opened for play more than twenty years ago. The East Couse, which was designed by Lee Trevino opened in 1997 is a little shorter than the West Course measuring just 6,946 yards but it makes up for is lack of length with more than 100 bunkers. That's not the only challenge that awaits because he greens are full of humps and borrows and are famously difficult to read and you need to be in the right position for your approach to try and get in an ideal spot on the green to give you the best chance of a birdie. Its one of the better managed courses in Ho Chi Minh with a large clubhouse and restaurant, driving range with grass hitting areas and a pro-shop full of all the things we regularly forget as well as merchandise from all the leading golf manufacturers.
Location: A one-hour drive from Ho Chi MInh
Birdies: Very well managed even on busy days
Bogeys: Can get crowded at weekends
Favorite Hole: 6th hole – a long dogleg par 5
"A challenging Nick Faldo design in a beautiful natural setting between the mountains and the sea"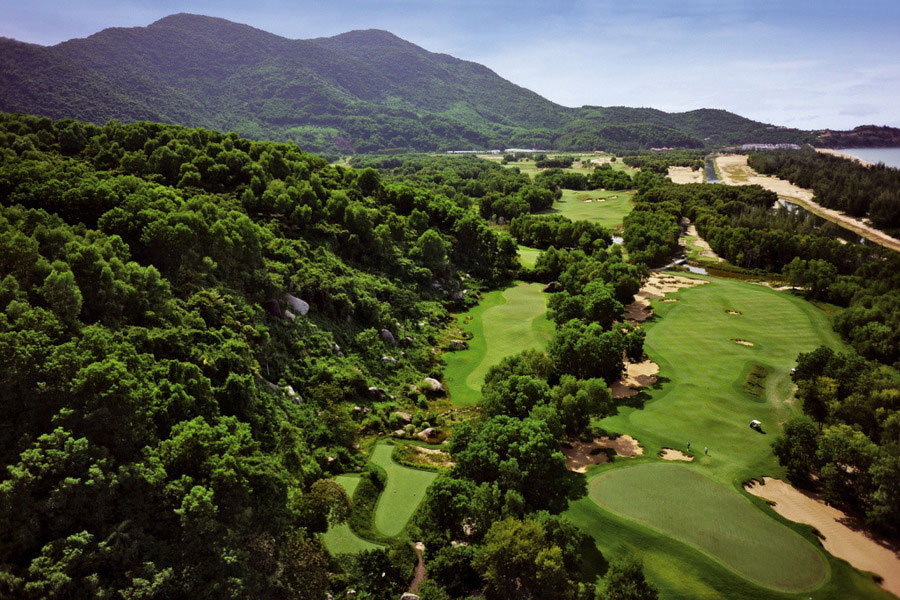 Laguna Lang Co Golf Club is a bit further out of Danang than some of the other courses on this list but it is certainly worth the extra travelling time. The course is set in a beautiful natural bowl between the mountains and the sea with wonderful views of the surrounding hills on one side and the ocean on the other. Sir Nick Faldo has a reputation for building difficult courses and although this course is playable for most golfers, you will find some long carries off the blue tees, narrow landing areas and some deep bunkers. Quite a lot of scrubland areas and quite deep rough so you do need to be on top of your game to have any chance of scoring well. The greens are a little slow and they need to work on the consistency but overall a superb course and worthy of its place on our list of the best golf courses in Vietnam. Other facilities include a well-stocked pro shop, and indoor/outdoor restaurant, excellent locker room, and a full driving range with covered bays plus a short game practice area.
Location: A 90-minute drive from Danang
Birdies: Beautiful setting and great views
Bogeys: Slow and Inconsistent greens
Favorite Hole: 11th – downhill par-3 with rocks all around the green