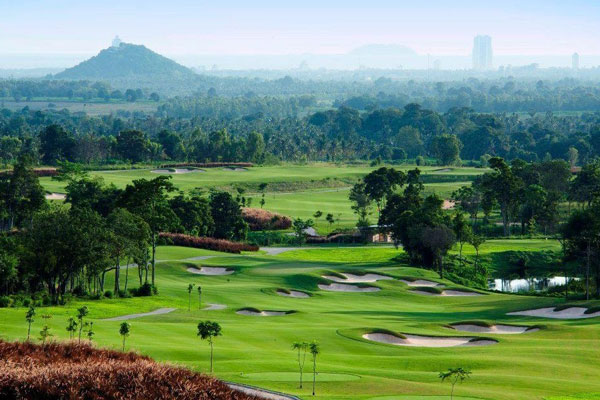 Pattaya is a town on the Eastern Gulf coast of Thailand and comes with a high reputation as an exciting holiday resort. However, away from the beaches and lively nightlife, Pattaya has been forging itself a great reputation, as the home of top quality golf courses Thailand is known as a brilliant holiday destination and offers a mix of culture, excellent weather, tremendous food and some of the world's best golf courses and golf clubs. Pattaya is located just over 60 miles south-east of Bangkok and is very easy to reach. The town was one of Thailand's first every beach resorts, having provided rest and relaxation for American soldiers in the 1960's. There are many sandy beaches within the vicinity and water sports, such as snorkelling and scuba diving are popular. The nightlife also plays a large role in attracting visitors to Pattaya, with bars and clubs plentiful and due to the volume of people visiting for a holiday, the number of high quality hotels is increasing all the time.
However, due to the many hazards, such as the water mentioned above, it's wise to listen to the local caddy, who will accompany you during your round of golf in Pattaya. The sound advice offered, can easily help you gain an extra birdie or two, especially on courses you have never played before.
One of the many benefits of playing golf in Pattaya, is not only the great weather and condition of the courses but also the great prices. The golf courses and golf clubs in Pattaya can match anything found in the whole of Asia and beyond, yet cost a fraction of the price to play, making Pattaya a dream destination for those who like to pack as much golf as possible into their break. Not only that but the golf courses in this area of Thailand are suitable for players of all abilities, so whether you are a good, experienced golfer or a beginner, there is definitely something for you in Pattaya.
The following eight golf courses, are our pick of the very best Pattaya has to offer and should not be missed.
Burapha Golf Club
The home of two, distinctive 18-hole championship golf courses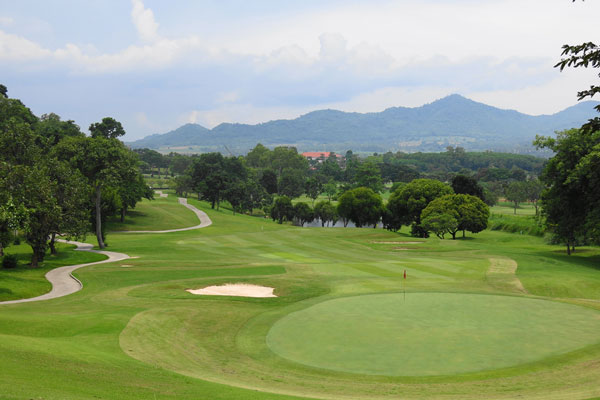 Designed by David Graham and Gary Panks, Burapha Golf Club opened for business in 1995 and features two, 18-hole championship golf courses. The courses play to a par-72, with one 6,828 yards and the other stretching to 6,948 yards. Burapha Golf Club was previously for members only but has since opened its doors to visitors and hosted the 2010 Thailand Open. Both golf courses make use of the natural environment and include palm trees, hills, lakes and local flora and fauna.
The East course is probably more suited to beginners, with wide open fairways, whereas the West course will provide a challenge for the more advanced player, including professionals. The elevated tee boxes give excellent views of the holes and both courses are always very well maintained, with greens coming in a variety of sizes, keeping players on their toes throughout the round.
Location: North of Pattaya, near Laem Chabang.
Birdies: Very well maintained golf course, offering a number of different routes through the 36 holes.
Bogeys: The food is not the best available in the region.
Favorite hole: The 7th Hole of the East course, which provides magnificent views over the surrounding countryside.
Laem Chabang International Country Club
A picturesque 27-hole Jack Nicklaus Course layout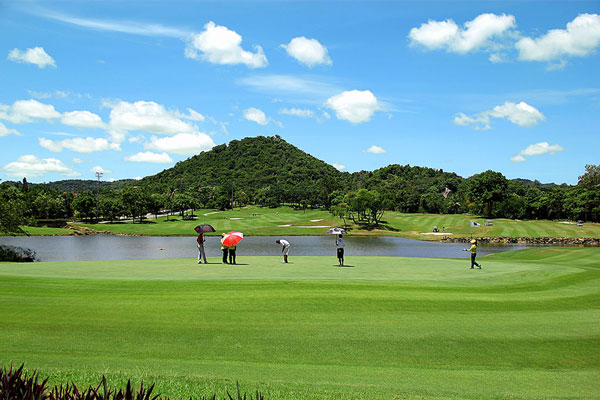 This golf course is considered by many, to not only be the best in Pattaya but in the whole of Thailand. Established in 1995 and designed by Jack Nicklaus, the course is split into three, distinctive sets of 9 holes, characterised by the terrain on which they are played.
Each course has been named separately and they are called Mountain, Lake and Valley. As the names suggest, each come with their own clear feature and for the Mountain course, that's rolling hills and natural undulations. The Lake course has a stream, which plays a part on almost all of the holes and the Valley course has a river valley running through it.
A very well maintained golf course and beautifully presented, Laem Chabang International Country Club is like playing three golf courses for the price of one.
Location: Between Pattaya and Chonburi, at km 31.
Birdies: One of Thailand's finest golf courses, with excellent clubhouse facilities.
Bogeys: Nothing we can think of
Favorite hole: The par-3 second hole on the Mountain nine, which is downhill to a green protected at the front by water.
Siam Country Club
Home to possibly the most famous golf course in Thailand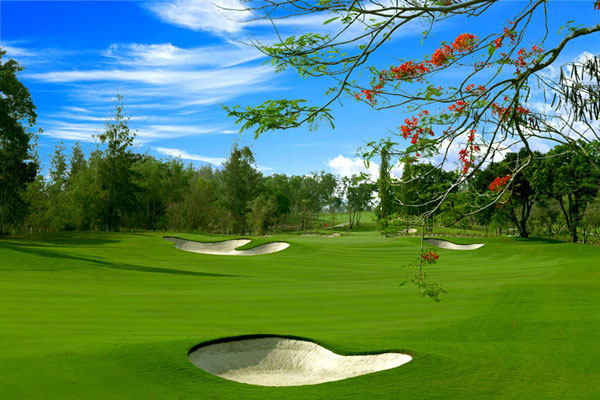 Siam Country Club is home to three, 18-hole golf courses. The Old Course, which opened in 1971, was renovated in 2007 and brought up to an international championship standard. The majority of holes are played around a series of lakes and feature large fairway bunkers, in addition to the large, fast and undulating greens.
The Waterside and Plantation courses came much later than the Old Course, having been established in 2014 and 2008 respectively. The Waterside course offers plenty of chances for good scoring and features a number of lakes and creeks, making the best choice for beginner golfers. The Plantation course played host to the 2009 US LGPA and the 2015 Thailand Open and has a number of difficult holes. That being said, it is a truly fantastic golf course, with ravines and elevation changes throughout, in addition to undulating fairways and greens.
Siam Country Club is one not to be missed when planning a Pattaya golf break
Location: Off Sukhumvit Road, going towards Bangkok.
Birdies: The choice of great golf courses and great facilities make Siam Country Club a must visit.
Bogeys: Can be very busy, so book ahead and do not play slow.
Favorite hole: The par-5 17th on the Waterside course, which is 600 yards long but can be reached in two over water and a deep ravine, close to the green.
Eastern Star Country Club
A links style course and one of few in Thailand designed Robert Trent Jones Jr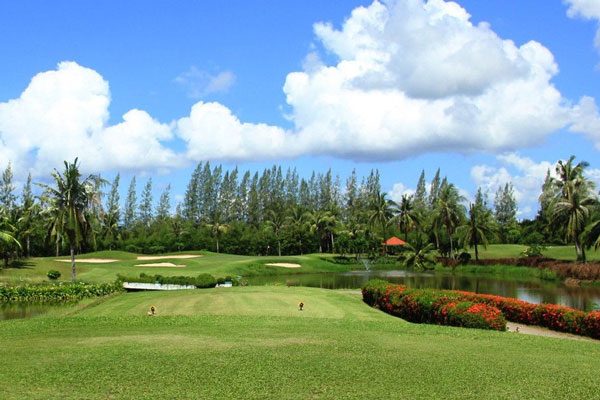 This is a golf course which features wide fairways and is therefore suitable to beginners and experienced golfers alike. A par-72 course, playing to 7,134 yards off the championship tees, Eastern Star plays quite long but due to the width of the fairways, players can feel confident with the driver off the tee.
There are a number of bunkers and lakes throughout and being so close to the sea, the course benefits from a breeze, which can be ideal if playing during the middle of the day. A little bit of a strategy and well placed shots, can go a long way to producing a low score at Eastern Star, just avoid the water, which stretches alongside the majority of the fairways.
Additional facilities include an Olympic sized beach pool, clubhouse and restaurant.
Location: On the way to Bangchang, about 45 minutes from Pattaya.
Birdies: One of only a few golf courses in Thailand designed by Robert Trent Jones Jr.
Bogeys: Greens can play a little slow at times.
Favorite hole: The par-3, 13th hole requires an accurate tee shot over water, to a well-protected green. It's easy to be taken in by the view and lose concentration on this hole.
St Andrews 2000 Golf Club
A unique golfing experience, with two 'par-6' holes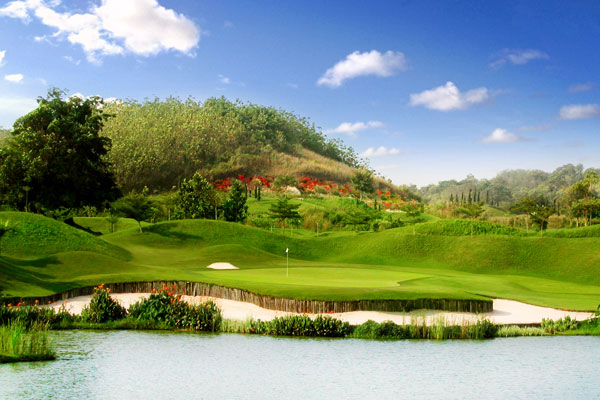 Situated just over a 30-minute drive from the centre of Pattaya is St Andrews 2000 Golf Club, a course designed by English architect, Desmond Muirhead. As a par-74 course, playing to a total of 7,777 yards, the length of the course demands immediate attention. The course has been built to replicate a classic Scottish links style course and is aimed at players with handicaps of 18 or lower.
Comprising both elevated tees and greens, with undulating fairways, which are severe in places, this is a golf course which provides a real test, to the best players out there. The greens are large but the real stand out feature has to be the two par-6 holes, which stretch over 800 yards long. These may not sit kindly for the golfing purist but everyone who loves golf will really enjoy the challenge they present.
A good mix of power and accuracy are required, to tame the course at St Andrews 2000 Golf Club.
Location: Near Ban Chang, towards Rayong.
Birdies: Features two exciting and challenging par-6 holes.
Bogeys: The par-6 holes may not be for everyone.
Favorite hole: The par-6, 4th hole can be reached in 3 shots, with a dogleg right, the first shot is over water and the second is very long, to an elevated green with two levels.
Wangjuntr Golf and Nature Park
A true test of golf, in lovely surroundings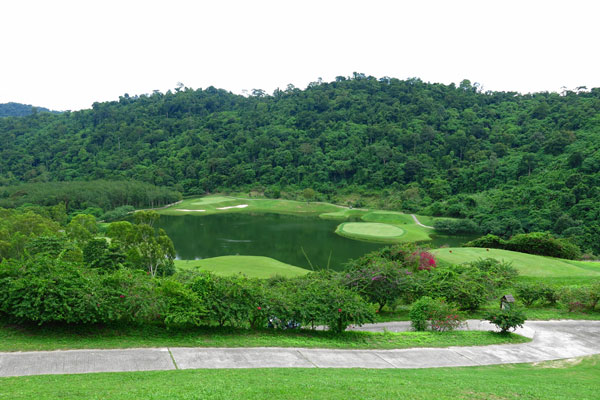 Wangjuntr Golf and Nature Park is a unique design with two golf courses, each featuring 18 fairways and 36 greens. While this is not common in Europe or America, it can be found on many golf courses in Japan. The Valley course is over 7,000 yards long and includes five par-5 holes and five par-3 holes, which is a very unusual set-up for a golf course.
The Highland course is even longer and plays to over 7,600 yards, making it the longest golf course in Thailand. This course features slightly less par-5's and par-3 holes than the Valley course but only just, with four of each. The original vegetation of the area has remained in place and the mature rubber trees, pineapple, sugarcane and cassava plantations all remain and look splendid.
The Highland course is the more challenging of the two but whichever course you decide to play, there is a real feeling of being out in the wilderness at Wangjuntr Golf and Nature Park.
Location: Wangjuntr, Rayong Province about 90 minutes from Pattaya
Birdies: Very interesting set-up and tremendous natural environment in which to play golf.
Bogeys: The overall length of the two courses can deter some golfers.
Favorite hole: The par 3, 17th hole, is located on a cliff and plays down to a well-guarded green, while offering panoramic views of the area.
Phoenix Gold Golf and Country Club
Host of the 2016 Kings Cup, a joint tournament of the European and Asian Tour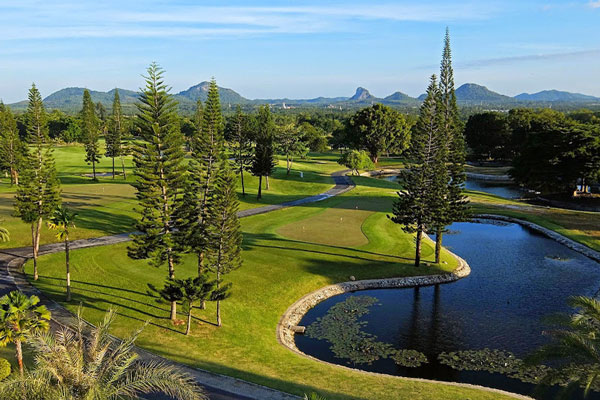 Established in 1993 and designed by Dennis Griffiths, Phoenix Gold Golf and Country Club is a 27-hole golf course. The venue is split up into three 9-hole golf courses, comprising the Ocean, Lake and Mountain course.
The natural vegetation, including large mango, eucalyptus trees and flowering shrubs, add a touch of beauty and colour to the course and there are fantastic views of the nearby mountains and gulf of Thailand to enjoy. Phoenix Gold Golf and Country Club is quite rare for the region; in that it does not have much in the way of water around the 27 holes. The Lake course is the only one to really feature any water hazards, which come in the way of small ponds.
In general, the 27 holes feature gently rolling fairways, shallow bunkers and sloping greens. The main difference between each set of nine is the surrounding area and views, with the Gulf of Thailand coming into view on the Ocean course and jungle clad hills providing the backdrop to the Mountain course.
Location: 10 km from Pattaya, near Jomtien beach.
Birdies: Very easy to reach from Pattaya.
Bogeys: The new 9-hole needs to time to mature.
Favorite hole: The par 5, 9th hole on the Ocean course is the highest point on the course, with a tee shot down a sloping fairway and a second shot hit toward the Gulf of Thailand, which is viewable in the distance.
Khao Kheow Country Club
The only course in Pattaya designed by Pete Dye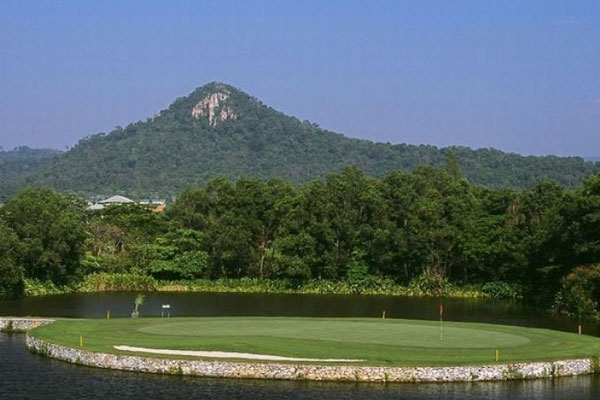 Similarly, to Phoenix Gold, Khao Kheow County Club comes complete with 27 holes, however, they are split into an 18-hole championship course and a separate, 9-hole course. Established in 1992 and designed by Peter Dye, Khao Kheow Country Club nestles in a valley, between two hills and this allows pleasant sea breezes to work their way along the golf course.
A par-72, playing to just over 7,000 yards, this is quite a long course, with elevation changes throughout, something which differentiates Khao Kheow among other courses in the area. Large ponds make up the bulk of the hazards on this golf course, in addition to sizeable bunkers. The fairways are always well manicured and the greens are very undulating, making the good reading of putts key to a good score. The 18-hole course is definitely the more testing of the two but it's a good idea to combine both, as together they offer a great variety of holes.
Location: Just off the Bangkok - Pattaya Motorway.
Birdies: Plenty of elevation changes, something which is not found at many courses in the region.
Bogeys: The final 9 holes play like a resort course and may not appeal to all.
Favorite hole: The par 3, 8th hole is a real test of nerve, playing over water, to an island green.
So that completes our guide to the best golf courses in the Pattaya region of Thailand. There are plenty of wonderful golf courses to choose from and it can be difficult to single one out in particular but whichever courses you decide to play, you are guaranteed a fantastic golfing holiday in Pattaya.