What better way to spend time in such a diverse country than to sample the great choice of golf courses available.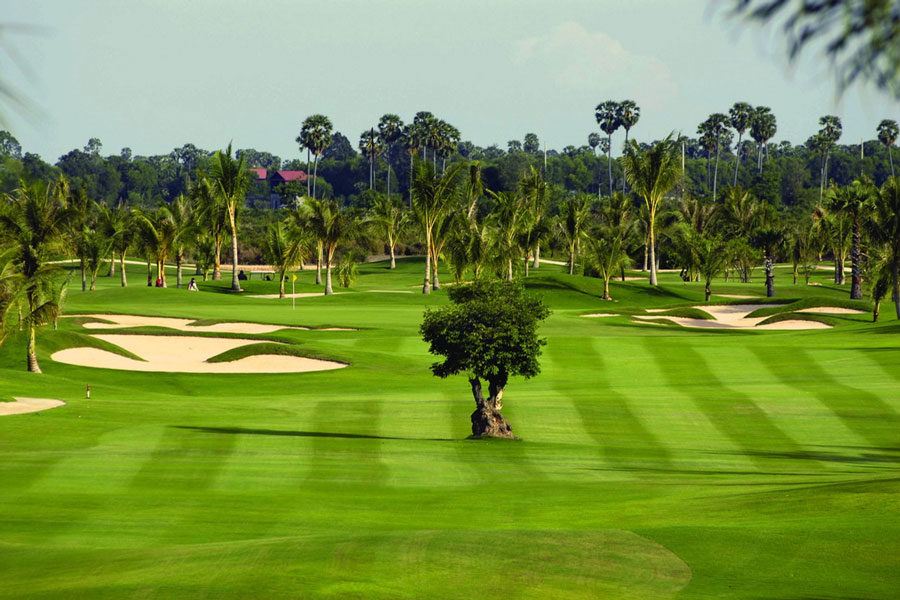 Cambodia is a country in Southeast Asia and shares borders with Thailand, Vietnam and Laos. The Gulf of Thailand makes up the surrounding areas of Cambodia, which has a long and somewhat turbulent history. The architecture is fantastic, with temples being the one image everyone relates to when they think of Cambodia. The magnificent buildings are combined with rice paddies, mountains and a tropical wilderness full of wildlife to make Cambodia an exotic location to visit. What better way to spend time in such a diverse country than to sample the great choice of golf courses available.
One of the first things to mention about playing golf in Cambodia is the weather. While Cambodia does have two distinctive seasons, the climate is much easier to predict then other countries in the region and it's possible to spend time in Cambodia all year round.
When arriving in Cambodia, chances are you will be landing at either Phnom Penh and Siem Reap. If it's the latter, you are immediately within reach of three excellent golf courses. Siem Reap Booyoung Country Club was the third international golf course to be opened in Angor Wat and is located just 6 kilometres away from Siem Reap town. Designed by Kentaro Sato, Siem Reap Booyoung is an 18-hole golf course playing to 7114 yards. A significant amount of money was invested in the construction of the course and high quality tournaments have been played on it, in addition to the visit of the Cambodian Prime Minister. The fairways on this golf course are generous and there are five sets of tees to choose from, making it suitable for players of all abilities. Interestingly, the 1st and 10th holes are par-5's, which are quite unusual and the most difficult par-4's are kept for the 9th and 18th holes. There are several creeks which work their way across the course and the greenside bunkers ensure players keep their focus when playing approach shots, although the greens are large throughout. Split fairways offer players the opportunity to play safe or take a bit of a risk to shoot a lower score. The course at Siem Reap Booyoung is very well kept and you are guaranteed a great round of golf.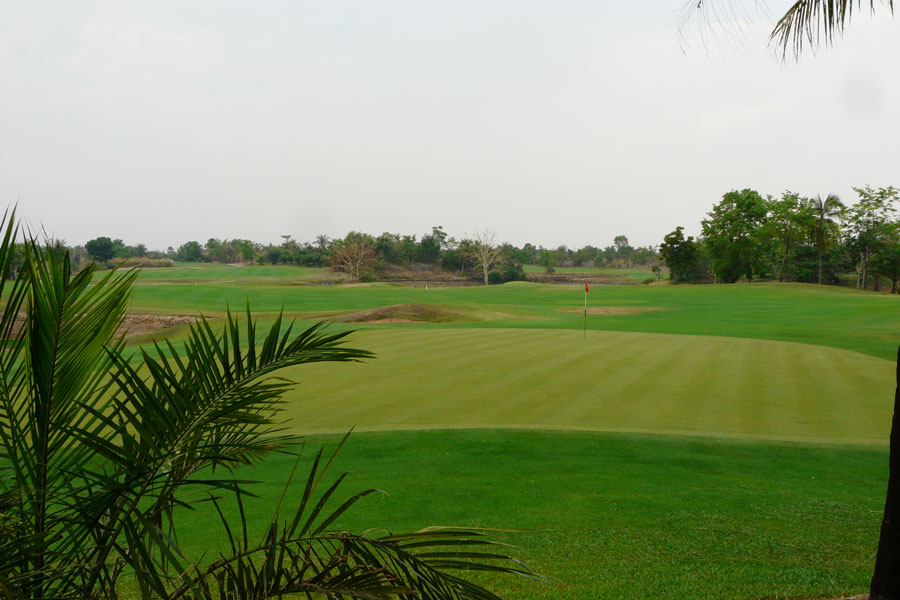 Located just 5 kilometres from Siem Reap airport is Phokeethra Country Club. This golf course is managed by the hotel giant Sofitel and has played host to the 2009 Johnnie Walker Classic and 2010 Cambodian Open. This golf course has some lovely features which will make you feel as though you are being immersed in Cambodian history and culture. Nice touches include a restored Roluh bridge, which can be found between the 9th green and 10th tee and this is used in the course's logo. The 18-hole golf course is always in good condition and plays to 7,145 yards, with large rolling fairways and big greens being the standout features. Bunkers and lagoons are the main hazards and water can be found on 17 of the 18 holes. The pick of the holes is the 18th, which features a double carry over water and a thrilling finish onto an island green. Being managed by Sofitel, the off-course facilities are five star and you will find everything you require at Phokeethra Country Club.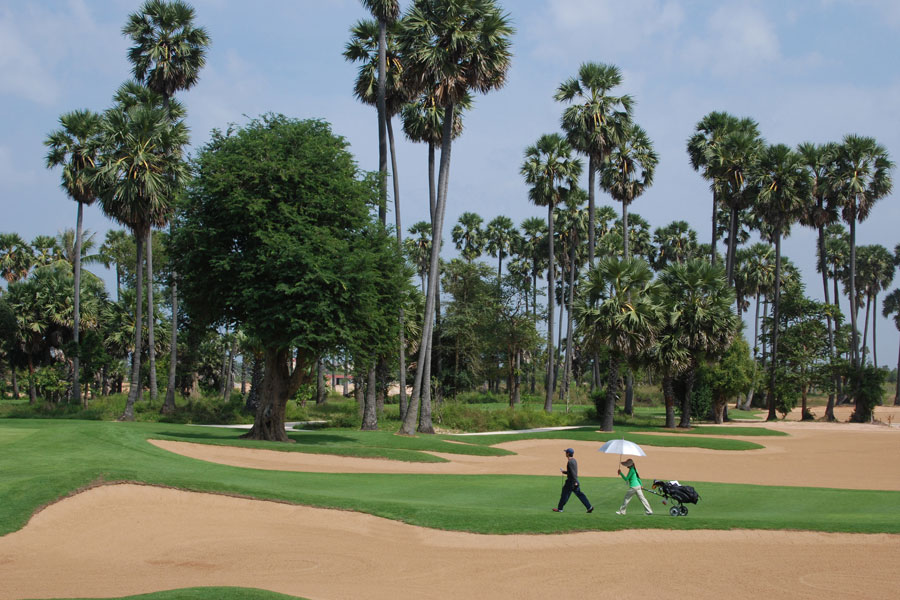 Often regarded as being the best golf course in Cambodia, the Angkor Golf Resort is just a 15-minute drive from Siem Reap. This golf course was designed by Nick Faldo, who was blessed by local monks when it opened in 2007. As you would expect from a Faldo designed course being run by IMG, everything is in good condition and well-kept throughout the year. This is a course which requires concentration and a good strategy to score low. Bunkers and water hazards are well placed and the undulating greens can catch you out if you find the wrong area of the green. Indeed, it's the pin positions which can define whether the course at Angkor Golf Resort is playing difficult or easy but the choice of tee boxes make it suitable for players of all levels. Despite the course requiring sound strategy, there is plenty of scope for big hitters to let rip with their driver, including the par-5 16th hole, which is 588 yards long. It can be driven in two but only the longest off the tee will find success this way. Water comes into play on approach to the green and this makes the 16th one of the most challenging on the course. The par-4 18th hole is often regarded as the best finishing hole in the country, with water running down the left side of a dogleg fairway and brings to an end a tremendous round of golf.
If you arrive in Cambodia via Phnom Penh, there are four great golf courses for you to choose from upon your arrival. The oldest golf course in Cambodia can be found at Cambodia Golf and Country Club, which is a 1 hour drive from the centre of Phnom Penh. This golf course was designed by Seiichi Inoue and opened for play in 1996. With generous fairways lined by sugar palm trees and other native plants, Cambodia Golf and Country Club is generally quite flat, especially through the front nine holes, with elevation changes coming into play throughout the back nine. The greens on the front nine are huge whereas on the back nine they are quite small, so be prepared for a change in the way you play your approach shots on the turn. With a lovely French style clubhouse, you can be sure to enjoy a lovely day of golf at Cambodia Golf and Country Club.
Garden City Golf Club, which was opened more recently in 2013, is one of the best kept golf courses in Cambodia. Just a 25-minute drive from downtown Phnom Penh, the 18-hole, 7,361 yard course was designed by Weerayudth Phetbuasak and is formed by disused rice paddy fields. The land has been moulded and shaped into a golf course featuring mounds, large greens and water hazards. There is not a great deal of roll to be found on the fairways so if you do not hit the ball long, expect to be in for a challenging round of golf. The par-3 15th hole is one of the most memorable as it has a double green, meaning the first golfer to tee off can choose whether the mountain or island green is in play. Whichever green is chosen be prepared to play an accurate shot because water and sand surrounds both on three sides. Garden City Golf Club provides an enjoyable yet testing round of golf.
Another golf course in the Phnom Penh region which is quite flat throughout, like the front nine at Garden City, is Royal Cambodia Phnom Penh Golf Club. This golf club was made famous in Cambodia when the Prime Minister, Hun Sen, got a hole in one in 2004. It's little wonder it's regarded as being his favourite golf course. Protection of the natural environment is a key aspect to the design of Royal Cambodia Phnom Penh and local birds can be found grazing on the wetlands. Despite being quite flat, each hole is unique and water comes into play on several holes, with undulating greens providing a good test with the putter. The clubhouse combines modern facilities and Cambodian architecture to make a nice place to relax after a round.
Just 15 minutes from Phnom Penh International Airport is Grand Phnom Penh Golf Club, which is a Jack Nicklaus designed golf course. This is a private members club and being located away from the city, the air is quite refreshing. The course is very long, playing to 7,914 yards but with wide fairways, you can get the driver out of the bag with confidence and attack the ball. However, being quite open and exposed, the wind can come into play and this will make you think twice about sending the ball high into the air off the tee. The par-3 16th hole is a good example of this, being a 231 yard tee shot to the green, over the edge of water. It's possible to reach the green in one but for some players this will require the driver when the wind picks up. In contrast, the par-4 12th hole is quite short playing to 365 yards and a wood or hybrid club is all that you will need to find the fairway and set up a nice approach shot to the green. However, anything over hit and you can find water or have your approach shot blocked by trees. The facilities at Grand Phnom Penh Golf Club are of an international standard and the service is excellent, making it a great place to play golf in Cambodia.
Cambodia is a country which has many excellent golf courses to choose from, all of which are very easy to reach. You will not be disappointed by the quality, variety and standard of the golf courses on offer and you could easily spend several weeks playing golf in the country.