As an up and coming golf destination, it's very difficult to beat Vietnam. The country is a paradise for visitors, with a warm climate, long, sandy beaches, delicious local food, friendly people and a great history. With a choice of airports, Vietnam has become much easier to reach, thanks to international flights from around the world and with its growing number of championship golf courses, the country is the perfect place to visit, for a fantastic golf holiday.
Best Of Vietnam
11 days/10 nights - 7 rounds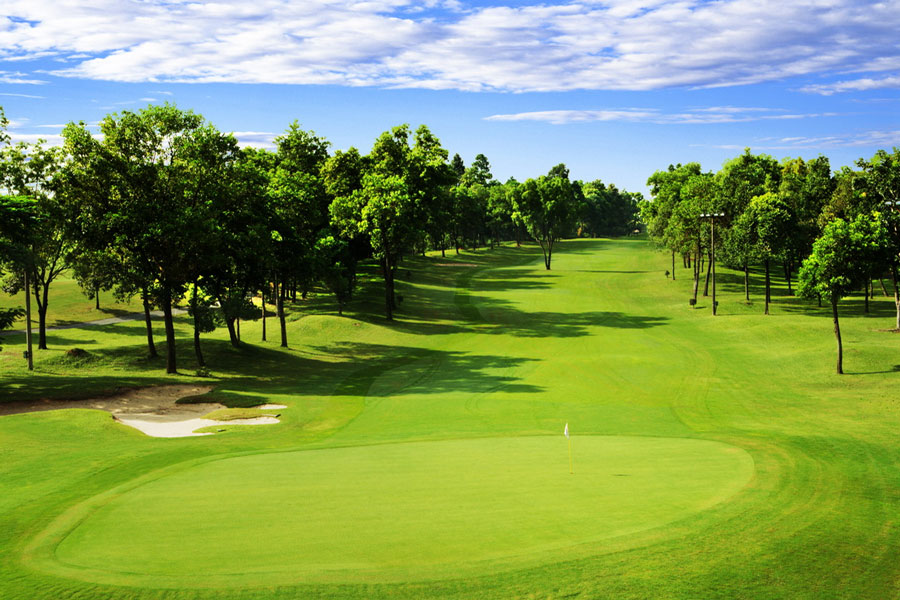 In 2012, Vietnam won an award for being the best undiscovered golf nation of the year and the choice and quality of golf courses has continued to grow ever since. Thankfully, we have put together some tremendous Vietnam Golf Packages and this is an example of one of the best, taking in the finest golf Vietnam has to offer.
Day 1: Ho Chi Minh Arrival
This Vietnam golf package starts with an arrival at Hoh Chi Min's international airport, Tan Son Nhat and a transfer to your hotel. After a long flight, it may be a good option to relax and enjoy the facilities at the hotel, before stepping out to the golf course, for the first time tomorrow.
Day 2: Ho Chi Minh - Golf at Vietnam Golf & Country Club
What better way to start a Vietnam golf package, than playing the home of the Vietnam Masters Asian Tour events, Vietnam Golf and Country Club one of best golf courses in Ho Chi Minh. This golf club has a choice of two golf courses, the East and West and these offer a different challenge, with the East Course being the tougher of the two. However, in terms of your first golf playing experience of your Vietnam golf package, it does not get much better than Vietnam Golf and Country Club.
Day 3: Ho Chi Minh - Golf at Long Thanh Golf Club
Moving on to day 3 and it is time for a round of golf at south Vietnam's top venue, Long Thanh Golf Club and Residential Estate. Another golf club with a choice of two courses, the Lake and Hill, the courses are very well maintained throughout the year and that's why it remains one of the most popular with the locals. Rolling fairways and large, undulating greens are a big feature here and you will enjoy the test and presentation of this golf club, in equal measure.
Day 4: Saigon City Tour and fly to Danang
Today we give you some time away from the golf course, to enjoy a special 'Best of Saigon' tour and then transfer to the airport, for a domestic flight to Danang, where you will be transferred to your hotel.
Day 5: Danang - Golf at Bana Hills Golf Club
Following a break from playing golf yesterday, day 5 includes a round at the excellent Golf at Bana Hills Golf Club, with a course designed by Luke Donald and the newest golf course in Danang. This course is situated in the foothills and features a number of valleys, with spectacular views of the local area, thanks to the mountainous location of the course.
Day 6: Danang – Golf at Danang Golf Club
Today you will play the Greg Norman designed, Danang Golf Club, which has won a number of 'Best Golf Course in Asia' awards, including three in row between 2011 and 2013. This links-style golf course will have you thinking of the great courses in Scotland, with generous fairways, no out of bounds, large natural waste areas and shaped putting greens.
Day 7: Danang – Golf at Mongomerie Links
If yesterday got you in the mood for more links golf, day 7 is perfect, as you head to the Montgomerie links. Again, this is a links-style course, which other than the temperature, will have you believing you are playing in Scotland or Ireland. Voted as one of Asia's top ten golf courses, the huge greens and spectacular scenery, combine to make this one of the most memorable golf courses in Vietnam.
Day 8: Fly to Hanoi
For the final leg of this Vietnam golf package, it's time to take a domestic flight to Hanoi and spend some time exploring the city and surrounding area, on a guided tour.
Day 9: Hanoi – Golf at King Island Golf Resort
Today we travel to Kings' Island Golf Resort, with unique mountain and lakeside views and oftne voted one of the top golf courses in Hanoi. Situated on the shores of the Dong Mo reservoir, there are two golf courses, spanning two islands and both make great use of the natural surroundings, including the water and sloping terrain.
Day 10: Hanoi – Sky Lake Resort & Golf Club
This will be the final round of golf on this Vietnam golf package and is one of the most special. Sky Lake Resort and Golf Club, offers two fantastic golf courses, set in some of Vietnam's most awe-inspiring scenery. The Lake Course is perhaps the pick of the two and features a series of lakes, with a picturesque mountain backdrop. Both the fairways and greens are undulating and provide the perfect end, to a great Vietnam golfing holiday.
Day 11: Hanoi Departure
On you last day will leave you time to enjoy some of the other delights of Hanoi before you head to the airport for your flight home.
This is just one example of the superb Vietnam golf packages we have available, all of which can tailored to match your own requirements. However, to get a real taste of playing golf in this brilliant country, you will not find any better than this, the Best of Vietnam Golf Package.