Thailand is regarded as one of the top destinations in the world for a golf holiday. Take one look at what Thailand has to offer and it is easy to see why the country is so highly rated.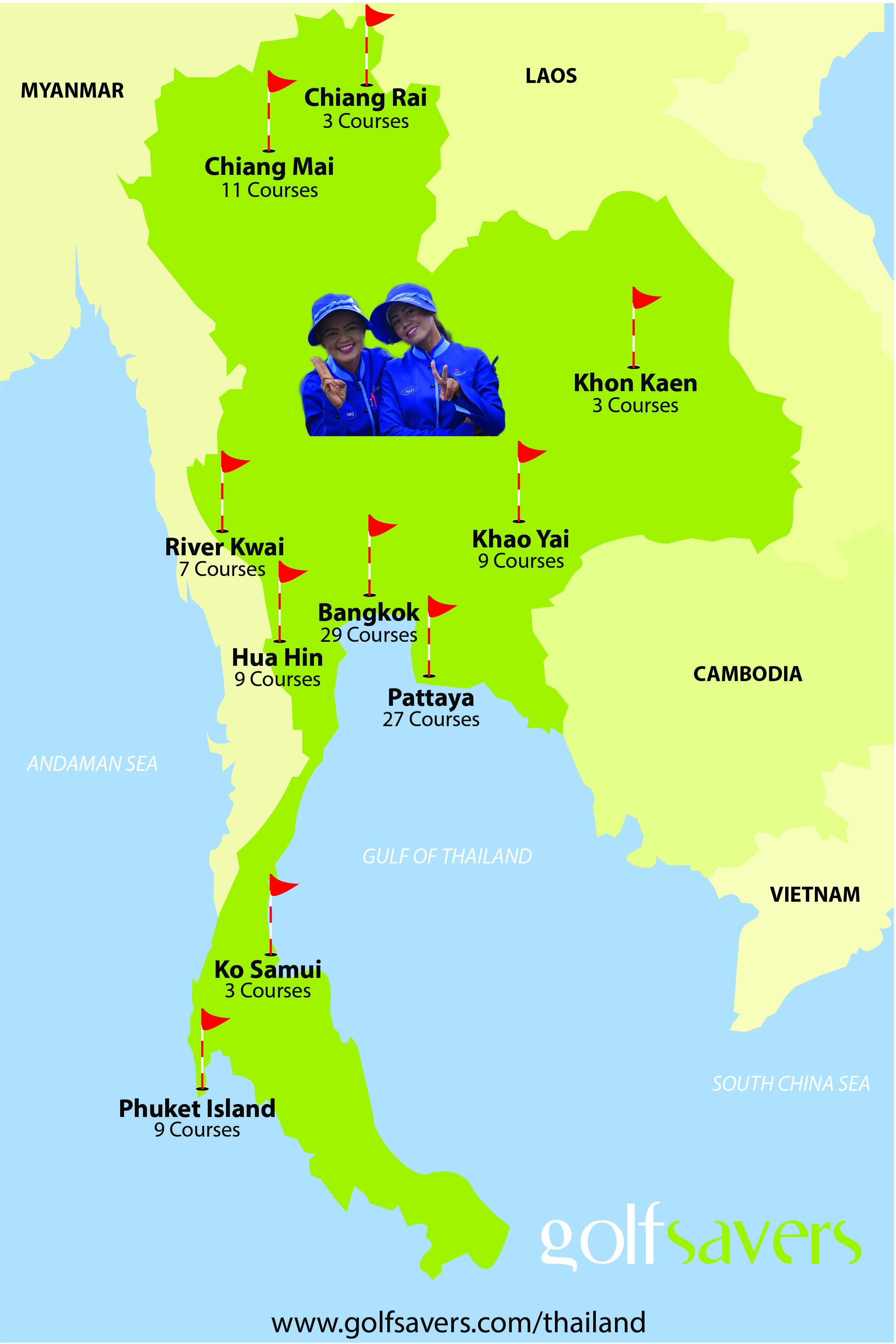 Not only is Thailand home to some of the best golf courses on the planet, it has plenty to offer besides. Firstly, Thailand is home to some of the best food you will find anywhere and you are guaranteed top-quality cuisine, whether it be in the clubhouse or in a restaurant.
You also have great sightseeing and adventure trips, stunning beaches, a lovely climate and charming, welcoming local people. Combine these things with a tremendous selection of golf courses and you soon begin to realise why people think so highly of Thailand when it comes to golf vacations.
When planning your golf trip to Thailand, you must be aware of the different seasons. These can vary slightly depending on where exactly you want to stay but they serve well as a rule of thumb.
The weather can be split into three seasons, with the cool and dry season between November and February being the best for golf. Don't worry, despite the title, the weather is not cold, it is still warm and pleasant, making it ideal for days on the golf course. The rainy season is between June and September, with the hot season falling between March and May.
If you cannot make it during the cool season, March, September and October are also nice months for golf in Thailand.
However, having chosen when you would like to play golf, you must choose where in Thailand you would like to base yourself and which golf courses you would like to play. This is no easy task but we have created a handy 'Golf Map of Thailand' to aid you with your search.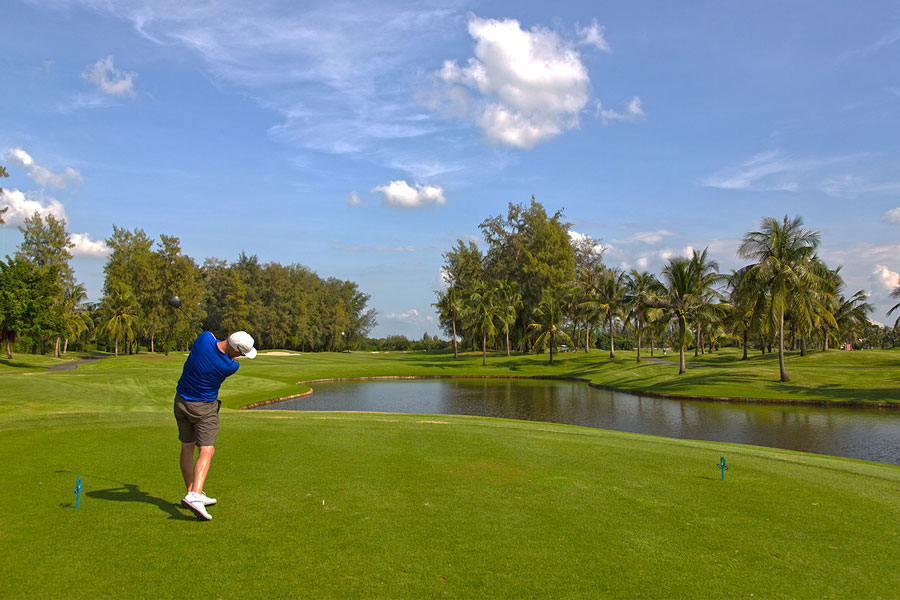 What better place to start than the capital city of Thailand, Bangkok. Many visitors to Thailand will arrive in Bangkok and there are some excellent golf courses available in and around the city. Take the Alpine Golf and Sports Club for example, which is ranked as one of the best golf course in Asia and was the venue for Tiger Woods' Asian Tour win in 2000.
You can also head to Royal Gems Golf and Sports Club, located just 35 kilometres west of Bangkok. This golf course is an official member of the United States Golf Association and is a very well-presented course, with water coming into play on a regular basis.
Moving south from Bangkok you will find Pattaya, which is one of Thailand's and Asia's most popular beach destinations. The choice of golf courses here is fantastic and you have over 20 to choose from within a small radius of the city.
If you would like to play golf on a course which takes advantage of the natural surroundings in Pattaya, you should visit Burapha Golf Club. This was previously a member only club and with palm trees, lakes, hills and tropical vegetation throughout, it is a beautiful golf course to play. This course has hosted many professional tournaments, including the Thailand Open, which highlights the overall quality of the venue.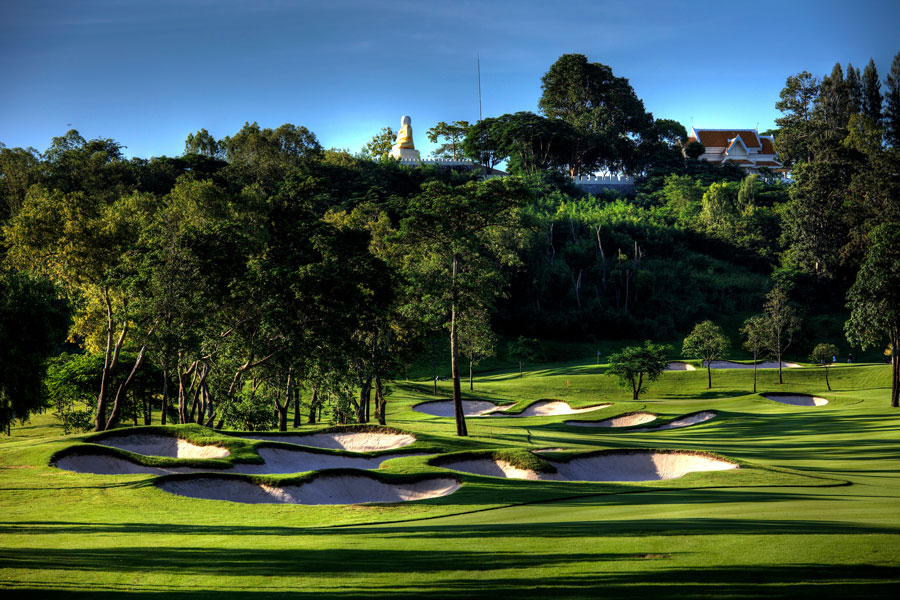 However, you cannot leave the Pattaya region of Thailand without having played a round of golf at Laem Chabang International Country Club. This Jack Nicklaus designed Championship Course has three sets of 9 holes, each with a different characteristic. Named Mountain, Lake and Valley, you begin to imagine the layout and features of each set of holes and they do not disappoint. There are many natural hazards around the 27 holes and the course is always presented in immaculate condition.
Travelling away from Pattaya, across the Gulf of Thailand and you will reach Hua Hin. This region of Thailand has been very active in developing golf courses while maintaining its original charm and provides a nice contrast to both Bangkok and Pattaya.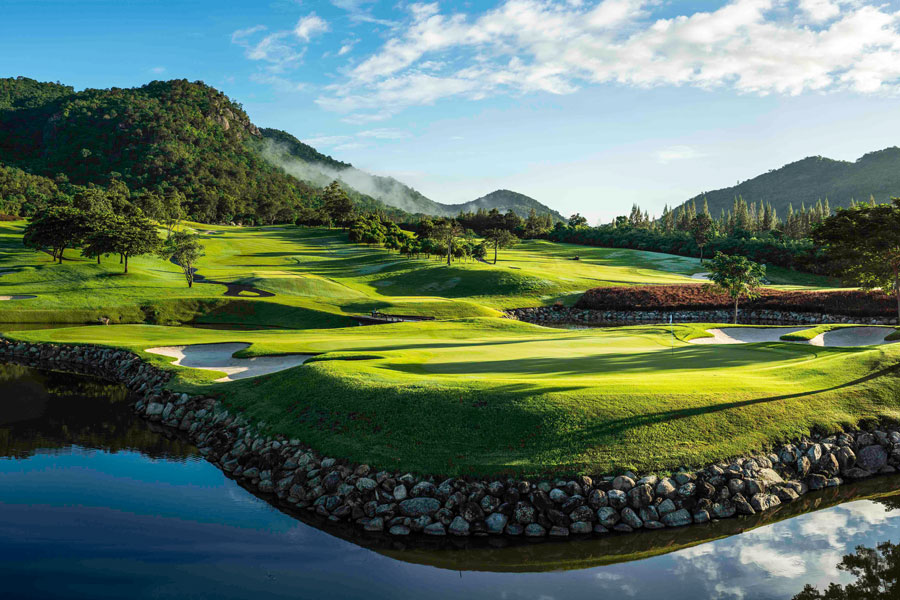 Royal Hua Hin Golf Club was the first 18-hole golf course in Thailand, having opened in 1924 and is a great place to start if you want to get back to the roots of the game. Look out for the manicured trees and plants, some of which are shaped into animals and Thai mythological creatures. However, for those wanting to play the best golf courses Hua Hin has to offer, you should book a tee time at both Black Mountain Golf Club and Banyan Golf Club.
Black Mountain Golf Club has played host to several Asian PGA Tour events and has been voted one of the 100 best golf courses outside the USA by Golf Digest magazine. The first European Tour event to be staged in Thailand, the Thailand Classic, has also been hosted by Black Mountain Golf Club and this only serves to highlight the growing reputation of the golf course.
Banyan Golf Club is one of the closest to the centre of Hua Hin and having opened in 2008, was awarded the Best New Course in Asia Pacific by the readers of Asian Golf Monthly and has continued to win awards ever since. Providing tremendous ocean and mountain views throughout the 18 holes, Banyan Golf Club is one of the most picturesque layouts in Thailand, while still managing to provide a true test of golf. If there are two golf courses to be considered 'must play' in Hua Hin, they are Black Mountain Golf Club and Banyan Golf Club.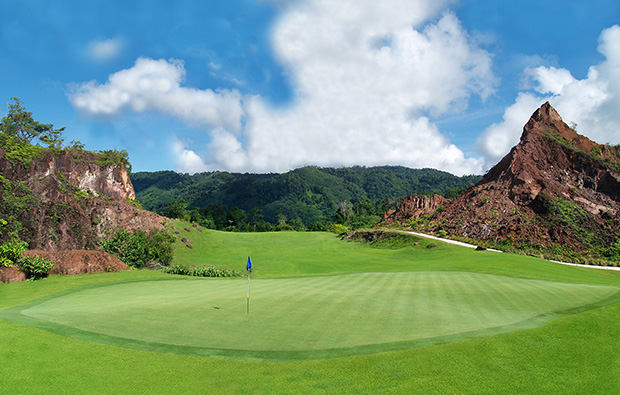 Leaving the mainland and heading further south, Phuket is Thailand's largest island and makes for a stunning golf holiday. With several championship golf courses to choose from in addition to stunning beaches and awesome scenery, Phuket is very much a golfer's dream.
Perhaps the best place to start when playing golf in Phuket is Blue Canyon Country Club, which is home to two excellent 18-hole championship golf course. You may have heard about the Canyon Course and that's because it has hosted the Johnnie Walker Classic on more than one occasion and is consistently voted as being one of Thailand's best golf courses. The second course at Blue Canyon Country Club is called the Lakes Course and the 18 holes wind their way around canyons which have been filled with water. With creeks meandering across the fairways, water plays a huge role on the Lakes Course so be prepared to lose the odd ball if you are not on top of your game.
While in Phuket, make sure you play a round of golf at the aptly named Red Mountain Golf Club. Upon on arrival you will immediately understand where the name has come from and the site is a former tin mine. Red Mountain Golf Club is the most spectacular golf course on Phuket, boasting red rock, dense jungle and undulating terrain, meaning it should be at the top of your list of golf courses to play in Thailand.
Chiang Mai and Chiang Mai Golf Clubs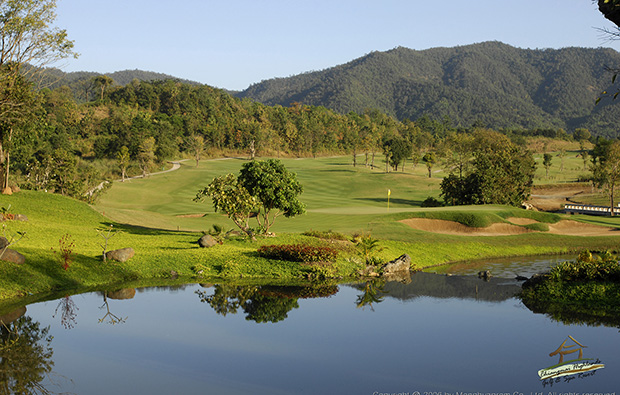 Going from the south of Thailand to the north and Chiang Mai is rich in not only traditional Thai culture, natural and man-made beauty but also a choice of incredible golf courses. The 'Rose of the North' is home to several golf resorts and Chiang Mai Highlands Golf and Spa Resort has the best golf course in this region of Thailand.
The drive to the course is fantastic and with a high elevation, cool climate, fresh air and awe-inspiring views as far as the eye can see, Chiang Mai Highlands is a 27-hole golf course which has won many awards since opening in 2005. Bunkering plays a huge role on this golf course, with over 130 fairway and greenside bunkers in total, many of which feature high front edges.
Although Chiang Mai Highlands is arguably the pick of the golf courses in Chiang Mai you should also check out Gassan Khuntan Golf and Resort, Summit Green Valley Chiang Mai Country Club and Alpine Golf Resort Chiang Mai.
Moving even further north in Thailand and you will come to Chiang Rai, which is known for being more relaxed than its northern neighbour, Chiang Mai.
Chiang Rai, being less developed in terms of golf than many other regions of Thailand, has a limited selection of golf courses including Happy City Golf Resort, Waterford Valley Golf Club and Resort and Santiburi Chiang Rai Country Club. The latter is undoubtedly home to the best golf course in Chiang Rai and the Robert Trent Jones Jr. design is regarded among the top courses in the whole of Thailand.
Water hazards and bunkers feature regularly and with undulating fairways, fast rolling greens and top conditioning, it's easy to see why so many golfers rate this course highly.
Kanchanaburi River Kwai Golf Clubs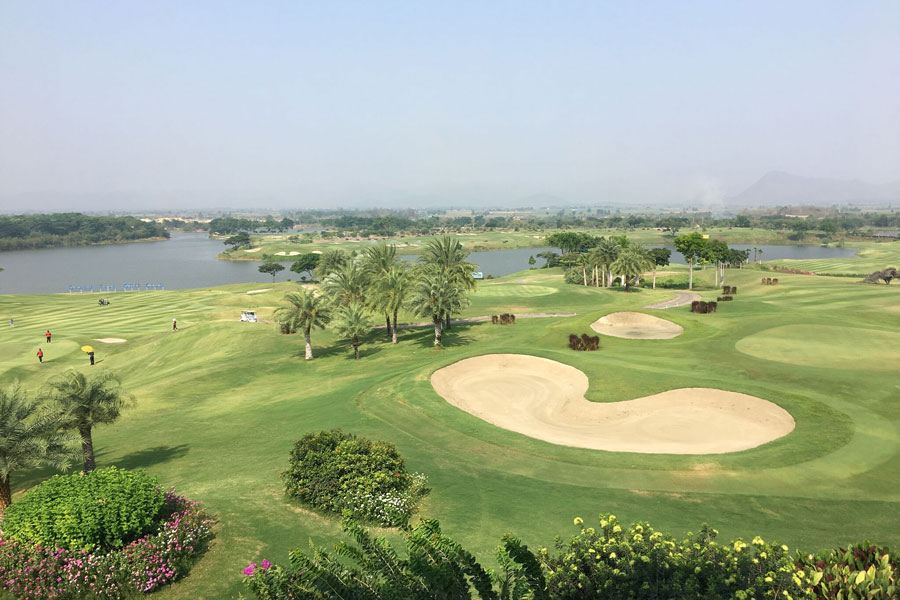 Travelling back towards Bangkok and just to the north east of the capital city you will find Kanchanaburi. This is also known as the River Kwai and is the location of the famous Bridge Over the River Kwai.
Mountains and river valleys combine to make Kanchanaburi an ideal location for golf and there are several excellent golf courses from which to choose. The most popular golf course in the area is Nichigo Golf Resort and Country Club and boasting tropical gardens, mountains and a replica of the famous Bridge over the River Kwai, it is easy to understand why it is ranked so highly. However, do not expect an easy ride as the course features many hilly fairways, doglegs and well-protected greens.
While in Kanchanaburi you should also play Royal Ratchaburi Golf Club, which is considered a hidden gem in the region and Mission Hills Golf Club Kanchanaburi, which offers a good test of golf designed by Jack Nicklaus.
Khao Yai Golf Clubs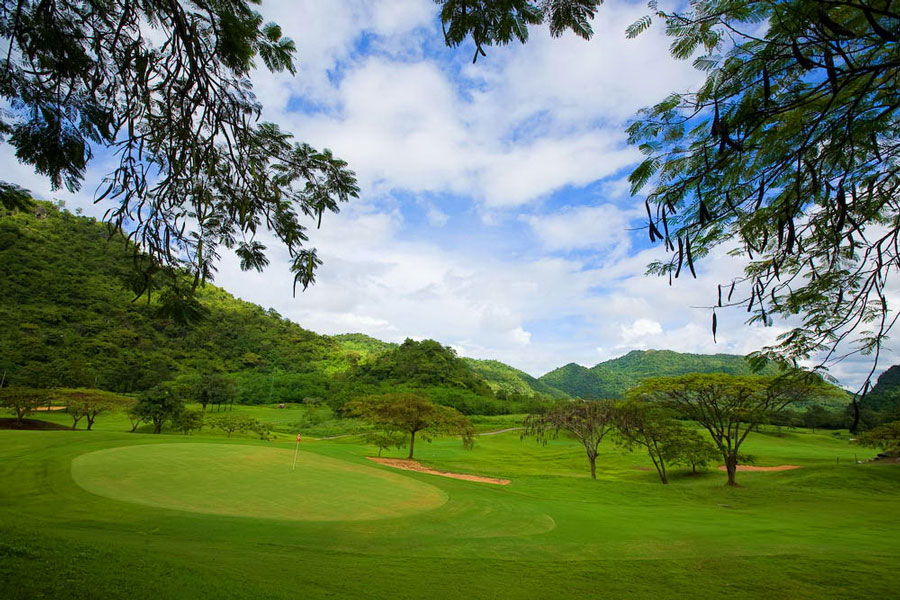 Almost directly north above Bangkok, Khao Yai can provide a welcome break from the hectic and full-on life style thanks to the alpine feel to the region. With clear air, cool temperatures and mountain scenery, its little wonder there are an abundance of golf courses to enjoy.
If you fancy a real challenge while in Khao Yai then book a round of golf at Toscana Valley Golf Club. This is in a world heritage site and the deep valley course presents one of the toughest golfing tests in Thailand. Sharp fairway drop-offs, deep bunkers, water carries and raised, undulating greens make Toscana Valley Golf Club a place for those who are on top of their game or who are strong mentally.
Make no mistake, this is a very picturesque golf course, with superb views from several of the raised tee boxes but when it comes down to the business of scoring low, Toscana Valley Golf Club is not to be treated lightly.
Elsewhere in the Khao Yai region you are spoilt for choice and you should try and book a round at Rancho Charnvee Country Club, Kirimaya Golf Resort and Spa plus Mountain Creek Golf Resort and Residence, the latter of which is the only golf course in Thailand designed by Seve Ballesteros.
Isaan Khon Kaen Golf Clubs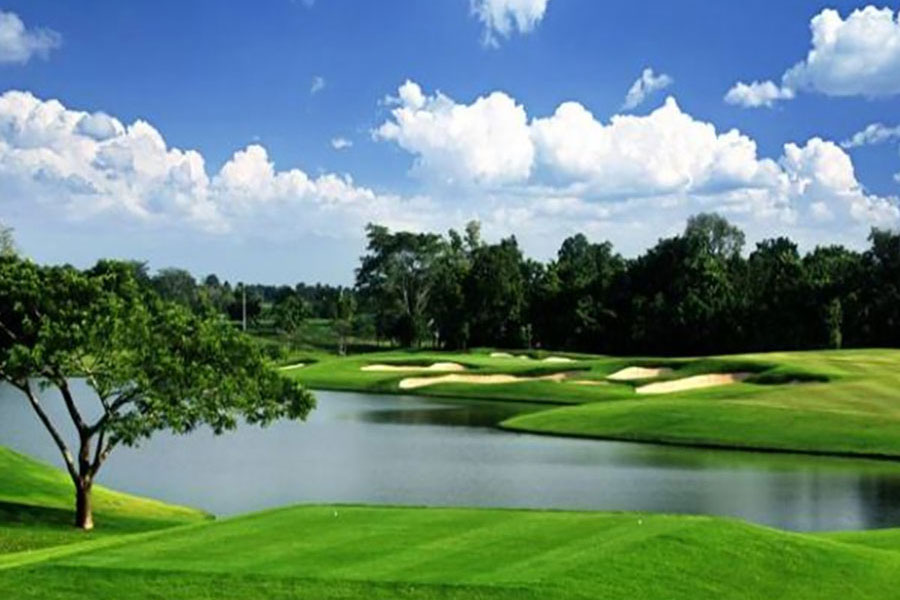 Finally, on our 'Golf Map of Thailand' we head to the north east of the country, known as Isaan. This area of the country is not visited as often by travellers and is therefore less expensive but is still home to some excellent golf courses.
The pick of golf courses in Isaan include Singha Park and Dancoon, both of which have hosted Asian Tour events. The former is named after the famous Thai beer which has a brewery close to the course and water plays a huge part in the 18-hole layout. The clubhouse at Singha Park is very modern and this makes it a clear winner in Isaan if you are looking for top-quality facilities.
Dancoon is a flat course and again water comes into play on several of the 18 holes. The fairways are lined by trees but many of them are small and do not cause much of a hazard. Coupled with the semi-rough which surrounds the fairway, Dancoon is a good golf course for those who like to attack with the driver.
If you are staying in the Isaan region for a few days, you could also include Victory Park Golf and Country Club on your itinerary. This was the first 18-hole golf course in Nong Khai province and is close to the border with Laos. This is also a flat layout and has hosted many regional tournaments over the years, making it popular with local golfers.
Thailand is a great country for a golf holiday and each region boasts some tremendous golf courses. Whether you decide to base yourself in one place or travel to different regions during your time in Thailand, you will have a fantastic time playing golf.