Thailand is a tremendous country for a golf holiday but what do you need to do in order to make a successful golf booking for Thailand?
There are many factors to consider, such as where to go, when to travel, how to get there, the climate, which golf courses to play and much more. Booking a golf holiday to Thailand is a breeze with this information to hand and below you will find all the details required to make a golf booking in Thailand, including a selection of the very best Thailand golf courses.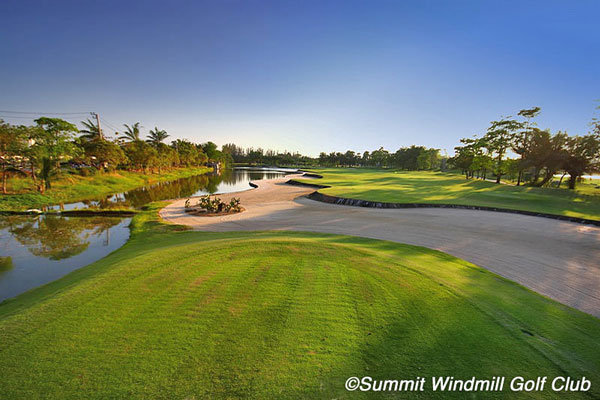 You will find a wealth of fantastic golf courses across the whole country but there are several regions which are regarded as being very good for playing golf in Thailand.
Bangkok is the capital city of Thailand and while your initial thoughts may be to head into the countryside to play golf, you will find many highly rated golf courses in and around the city. In addition to the golf courses, you have everything the city had to offer including top hotels, lovely restaurants, great shopping, lively nightlife, temples, markets and much more.
Reaching Bangkok is very easy thanks to Suvarnabhumi Airport and you will find many direct flights from Europe and Asia. You can also land at Don Muang Airport if you are taking a domestic flight and both are close to the city centre.
However, you must be prepared when making a golf booking to Thailand because Bangkok is one of the hottest cities in the world. Therefore, the best time to travel is during the cool season which is between November and February. The weather is also at its driest during this period and the same applies for much of the country.
If you are in doubt when making a golf booking for Thailand, always think about the cool season being between November and February and you will not go far wrong.
You must only travel a maximum of an hour away from the centre of Bangkok and you will find some of the best golf courses in the whole of Asia. Alpine Sports and Golf Club, which was the scene of Tiger Woods victory in 2000, Lotus Valley Golf Resort, designed by Gary Player plus Suwan Golf Country Club which played host to the 2010 Asia Tour are three of top golf courses situated around Bangkok.
There are of course many more and you could spend many weeks in the Thai capital enjoying golf and the sights and sounds of one of the world's greatest cities.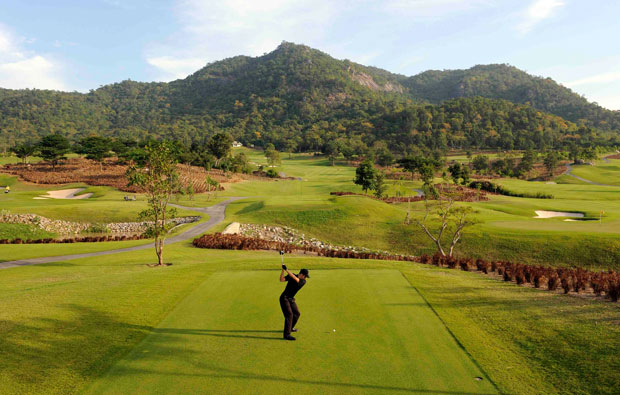 If you wanted to sample golf in more than one region of Thailand, you could easily combine Bangkok with Hua Hin. The two are separated by a distance of approximately 200 kilometres and the journey south takes no more than 3 hours.
In contrast to Bangkok, Hua Hin is a seaside resort city and remains popular with both locals and foreign travellers. The climate in Hua Hin is very similar to Bangkok so if you want the best conditions, you are advised to make your golf booking for Thailand between November and February.
You can reach Hua Hin by flying to Bangkok and making the journey south on the train. It is worth making the trip on the train for the station alone. The golf course located next to the traditional station was developed for the British railway workers and thus has an interesting history of its own. Booking a tee time at Royal Hui Hin Golf Course is a good way to begin a Hua Hin golf holiday.
There are several magnificent golf courses around Hua Hin and you should try and make time for at least some of them when booking a Thailand golf holiday. Black Mountain Golf Club has featured in lists of the best golf courses in the world and has played host to Asian PGA Tour events. The Banyan Golf Club was voted the best new golf course in Asia in 2009 and has since developed a reputation for being one of the top golf courses on the continent.
Other golf courses worthy of your time in Hua Hin include Sea Pines Golf Course, Springfield Country Club and Majestic Creek Country Club. With the golf courses, beach and national park, there is much to keep you occupied if you opt to make a golf booking in Thailand which incorporates Hua Hin.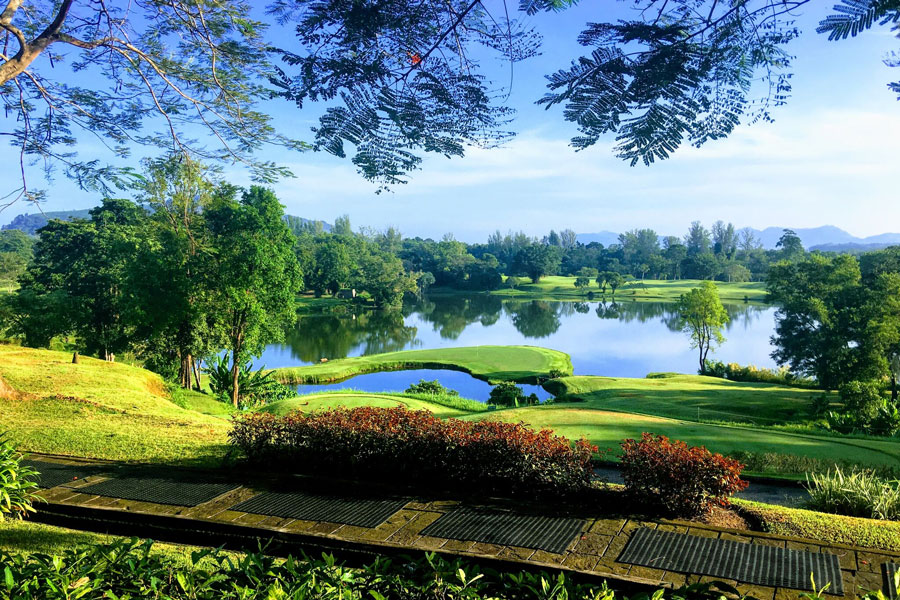 Travelling further south from Hua Hin you will come to the popular island of Phuket and this is a dream destination for those looking to combine stunning beaches and water sports with a round of golf. Phuket has its own airport aptly named Phuket International Airport and it accepts flights from around the world including the United Kingdom, Switzerland, Australia and China. Thanks to these direct flights, making a golf booking in Thailand which includes Phuket is a good choice.
In addition to the natural charms of the island and the surrounding Andaman Sea you will find plenty of top golf courses to keep you entertained on Phuket. Blue Canyon Country Club is arguably the pick of them and you will find two superb golf courses to enjoy, the Lakes Course and the Canyon Course. Both are considered to be must-plays when in this region of Thailand and many choose to book a Thailand golf holiday to Phuket solely based on the quality of these golf courses.
However, another Phuket golf course vying for position as one of the best in Thailand is Red Mountain Golf Club. The dramatic scenery and high quality, undulating fairways and greens make this one of the most popular golf courses in Thailand. Combine this with a round at Laguna Golf Phuket, Loch Palm Golf Club and Missions Hills Phuket Golf Club Resort and Spa and you have the makings of a dream Thailand golf holiday.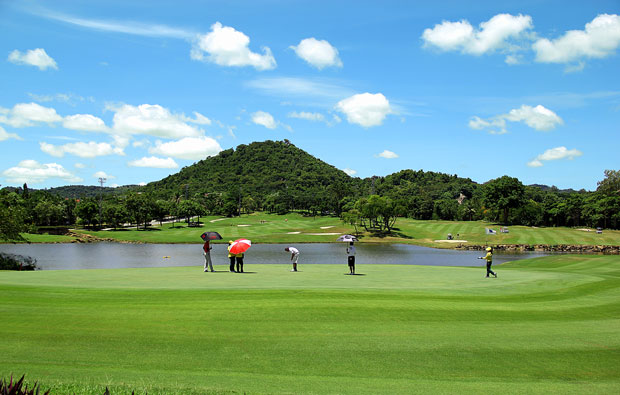 The fact many golf lovers from Bangkok choose to spend their weekends in Pattaya tells you everything you need to know about this Thailand golfing destination.
There are several high class hotels and resorts in Pattaya and it has grown to offer the travelling golfer everything they need for a memorable golf holiday.
Pattaya does have an airport but this serves mainly domestic and a small number of flights from Malaysia and China. However, it is only 150 kilometres from Bangkok, so is very quick to reach via ground transport from the capital. In fact, you could make a golf booking in Thailand which encompasses Bangkok, Pattaya and Hua Hin and only have to catch one flight into and out of the country.
There are over 20 different golf courses in Pattaya and you could spend months in this region of Thailand and still not play them all.
The question is, where do you start when making a golf booking in Thailand that includes the best golf courses of the region? Perhaps the best place to begin is Laem Chabang International Country Club, which was designed by Jack Nicklaus. This is regarded by many as being one of the most beautiful golf courses in Thailand and you should try and play a round here, even if it means a short trip from Bangkok.
Other top golf courses in Pattaya include Phoenix Gold Golf Country Club, St Andrews 2000 Golf Club, Emerald Golf Club and Royal Lakeside Golf Club Resort.
When making a golf booking for Thailand, you can also stay at Siam Country Club. This is located just 30 minutes from the centre of Pattaya and is home to three magnificent golf courses. You can play the Old Course, Waterside Course and Plantation Course, all three of which come highly recommended.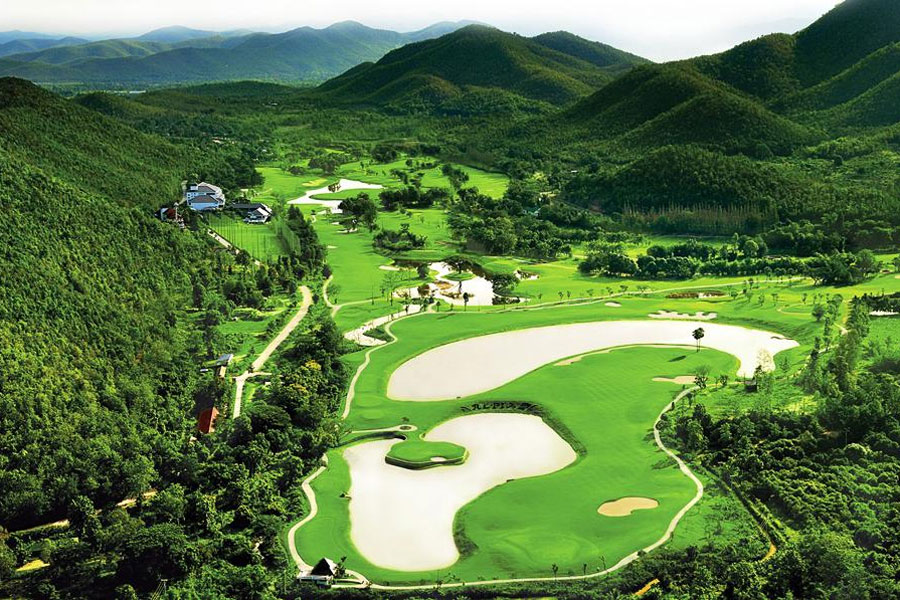 If you want a change of pace and scenery on a Thailand golf holiday, you should head to the north of the country, where you will find Chiang Mai. Despite being in the north of Thailand, the best time to visit remains the months of November through to February and you will find some of the nights are cool during this period.
Travelling via ground transport from Bangkok is not a good idea as the distant is too vast so you should fly to Chiang Mai International Airport. There are some direct flights from outside Thailand but depending on where you based, you may need to catch a connecting flight at Bangkok. However, this provides a great opportunity to make a double golf booking in Thailand and play courses in both Chiang Mai and Bangkok.
Chiang Mai is a big city but is surrounded by stunning mountain scenery and is much quieter than the capital. You will find many interesting places to visit and things to see encompassing the historical centre, night bazaar, temples, gardens, nature, traditional villages and wildlife.
The golf courses in Chiang Mai include the Alpine Golf Resort Chiang Mai, Gassan Legacy Golf Club, North Hill Chiang Mai Golf and Summit Green Valley Chiang Mai Country Club, all of which offer a high quality golfing experience in splendid surroundings.
Chiang Rai Golf Booking
Staying in the northern area of Thailand and if you wanted to make a golf booking in Thailand with a difference, Chiang Rai is hard to beat. This is the northern most province in Thailand and is made up mostly of mountains, sitting well above sea level.
You will find food weather and pleasant average temperatures in the months of November, December and January, thus falling in line with much of the country. The weather remains warm despite being the cooler part of the year but the biggest factor is the lack of rain, which allows for more golf and sightseeing.
Mae Fah Luang-Chiang Rai International Airport is deceiving in that although it is named an international airport, they do not accept any international flights. Instead, you can catch a connecting flight from Bangkok or Chiang Mai, combining one or both to make a fabulous Thailand golf holiday.
The mountain and valley views in Chiang Rai are excellent and you can make a visit to a local hill tribe, which is a fantastic experience and one you are sure to remember. However, golf is the main reason for your visit and although the number of golf courses available are limited, you will not lack for a good round of golf.
There are three golf courses to choose from including the 29-hole Happy City Golf Resort, the Robert Trent Jones Jr. designed Santiburi Chiang Rai Country Club and Waterford Valley Golf Club. If we were to stretch ourselves to pick one when making a golf booking in Thailand, it would have to be Santiburi Chiang Rai Country Club.
This golf course is one of the best in Thailand, with a nice variety of challenging holes plus plenty of bunkers and water hazards. In fact, Santiburi Chiang Rai Country Club is often voted as being one of the best golf courses in the whole of Asia, so certainly worth making the effort to visit while in Thailand.
There are other areas of Thailand which also make for a superb golf holiday and they include Kanchanaburi, Khao Yai, Isaan and Kho Samui. They each offer something different and can be added to any of the regions above to produce a Thailand golf holiday which you will never forget.
Travelling to Bangkok is easy, regardless of where in the world you are based and once you arrive in the Thai capital, you can reach any of the regions above, either on the ground or in the air. Making a golf booking for Thailand is something every golfer should do, the only problem is deciding where you are going play.