Pattaya is a great choice for a golf tour with more than 20 golf courses to choose from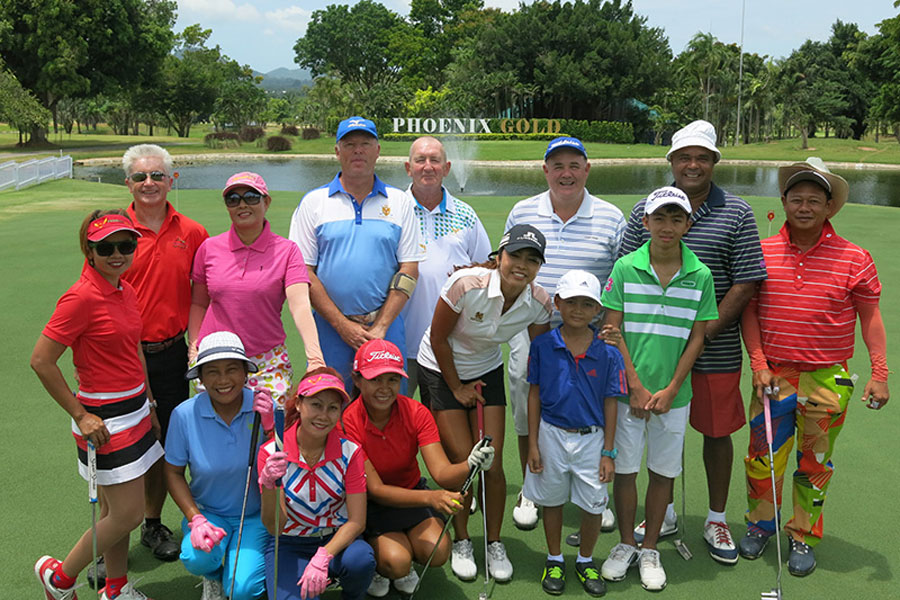 Organising a golf tour is never easy, especially if you are travelling to a region or country which is not familiar to you. If you are arranging a golf tour on the behalf of a group of friends or family, it is crucial you get every aspect of the tour right, so everyone enjoys themselves and is only thinking about achieving low scores on the golf course and nothing else.
There are many great destinations in Asia you choose for a golf tour but one the best is Pattaya, in Thailand. Pattaya is a seaside resort on the Eastern Gulf coast of Thailand, situated 150 kilometres away from the capital city, Bangkok. When looking at how to organise a Pattaya golf tour, the first thing you want to arrange is how you are going to reach the area and what transport you are going to use. As there is not an international airport in Pattaya, or one which regularly accepts domestic flights, you must fly into Bangkok first, to reach this part of Thailand. However, this can be an enjoyable experience and having landed in Bangkok, you could easily spend a couple of days in the city and even sample some of the local golf courses.
The good news is you can comfortable reach Pattaya from Bangkok using the local bus services. A frequent service leaves Bangkok's eastern bus terminal every 30 minutes but make sure you take the express bus, which is operated by a company known as Roong Reuang and makes a maximum of only four stops along the tollway. If you take any other bus, you will find it stops regularly at smaller towns along the way and while this may seem interesting at first, when you are looking at how to organise a Pattaya golf tour, it is best to remove this journey from your plans. You want to get to Pattaya and on the golf courses as efficiently as possible and taking a tour around Thailand on the local bus is not the best way to start a golf tour.
Thanks to the motorway, which means it is less than a two-hour drive from Bangkok to Pattaya, you could hire a private care with driver or a hire a car and do the driving yourself. It's recommended, if you have never driven in Thailand before to hire a private car with a driver, as this will take any worry and hassle away from you and your party plus, there will be plenty of room in the vehicle for your golf clubs, which may not be the case when using public transport.
One of the best things about golf in Thailand are the wonderful caddies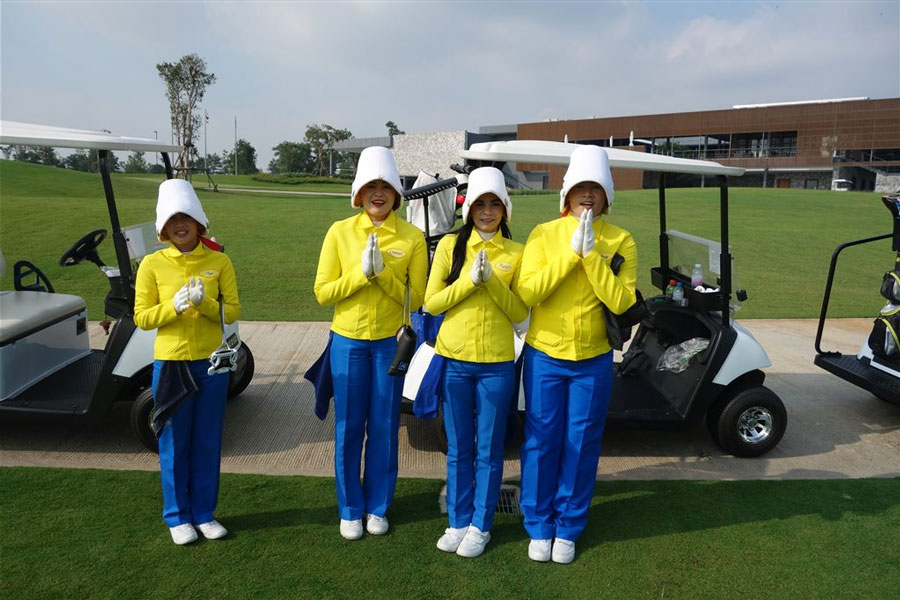 The question 'How to organise a Pattaya golf tour?' has many answers and something you must always consider is the climate and what conditions you would like to have when playing golf. As with many regions of Thailand, Pattaya's climate can be divided into three different seasons known as the cool, hot and rainy seasons. Immediately you may think you do not want to organise a Pattaya golf tour during the cool and rainy season and everyone in your group would prefer to play when it is hot. This is a mistake and members of your party will not thank you, if you send them out to play golf in 40 degree temperatures.
If you want to organise a Pattaya golf tour in the best possible weather conditions, you should choose the cool season, between November and February. The temperature, although not cool by North American and European standards, is the coolest it will be all year in Pattaya and tends to fluctuate between the mid-20's and early 30's. The second great thing about booking a Pattaya golf tour during the cool season, is it remains dry and you can expect to enjoy long days on the golf course, without any worries about rain disrupting your round. The one thing you should be aware when looking at how to organise a Pattaya golf tour during the cool season is the prices, of both accommodation and green fees. This is the most expensive time to travel to Pattaya because the weather is so favourable, which means everything will be at its most expensive but even though this is the case, many of the hotels and golf courses remain competitively priced with elsewhere in the world.
The hot season, between mid-March and June sees temperatures rising in Pattaya and coupled with high humidity, this can make playing golf in Pattaya difficult, especially for those who struggle in the heat. There will always be days which are cooler and the rain towards the end of April and start of May can bring a little respite but when organising a Pattaya golf tour, you should keep in mind that temperatures are going to be hot at this time of year. You should take plenty of fluids onto the course with you and always keep hydrated.
The final season, which is known as the rainy season, tends to last from June through to October. The temperatures begin to cool down from the hot season but there are also many more wet days. If you are thinking about organising a Pattaya golf tour during this period, you should aim for July and August, as September and October are the wettest months. However, you can still enjoy days with very little rain during this period and with the lower accommodation prices and green fees, your group will enjoy excellent value for money. Just be prepared for some days with rain and the fact you may be caught in a heavy shower or two while on the golf course. A breathable waterproof and an umbrella are a must when playing golf in Pattaya at this time of year.
Having decided when to travel and how to reach Pattaya, the most important aspect of how to organise a Pattaya golf tour, is which golf courses to include. Thankfully, you are spoilt for choice when it comes to golf courses in the Pattaya region, with over 20 to choose from. So, which Pattaya golf courses should you include when organising a golf tour?
The time you have available will influence how many of Pattaya's great golf courses you can play during your tour but we will highlight the best, which are considered a must for a Pattaya golf tour and you can substitute one or two of the courses if you would like, depending on what your group would like to do.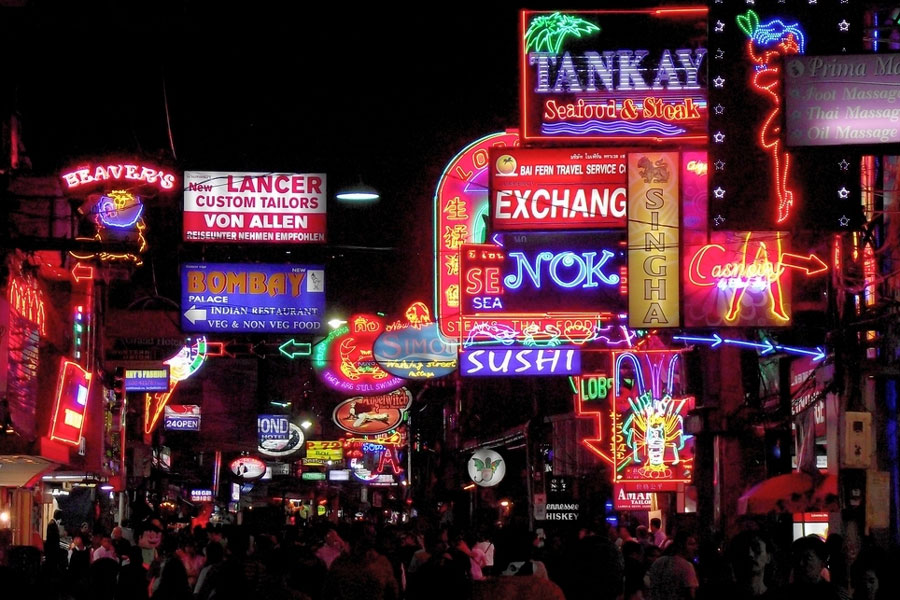 When planning on how to organise a Pattaya golf tour, you should seriously consider starting with a round of golf at Siam Country Club. This is one of the most famous golf clubs in Thailand is home to three excellent golf courses. This is where you need to start making choices in regards to your Pattaya golf tour itinerary. With three golf courses on offer at Siam Country Club, do you stay and play all three or you limit your time and play one, allowing you to include more golf courses in your tour?
This is a personal preference but if you would like to see and play as many of Pattaya's golf courses as possible, you would be better off playing only one course at Siam Country Club to start with and the Waterside Course comes highly recommended. This is the newest of the three courses at Siam Country Club and was designed by IMG. Opened for play in 2014, the Waterside Course features several lakes and creeks but is very playable and a good way to introduce yourself to golf in Pattaya. The back tees stretch the course to over 7,400 yards in length, making it a challenge for everyone in your group but with the greens and fairways rarely deviating in terms of undulation and playing on the same level, getting up and down is a realistic option for most players, making a decent score possible on this course. Perhaps the pick of the holes on the Waterside Course is the 17th, which is a par-5 hole stretching 600 yards. The key to this hole is deciding whether you have the power to reach the green in two, across a dogleg over water or whether you should safely layup and face an approach shot over a ravine to the green. Indecisiveness is what costs many people shots on this hole so go with your gut instinct and play your chosen shot with confidence.
The Siam Country Club Waterside Course is very playable and a good way to introduce yourself to golf in Pattaya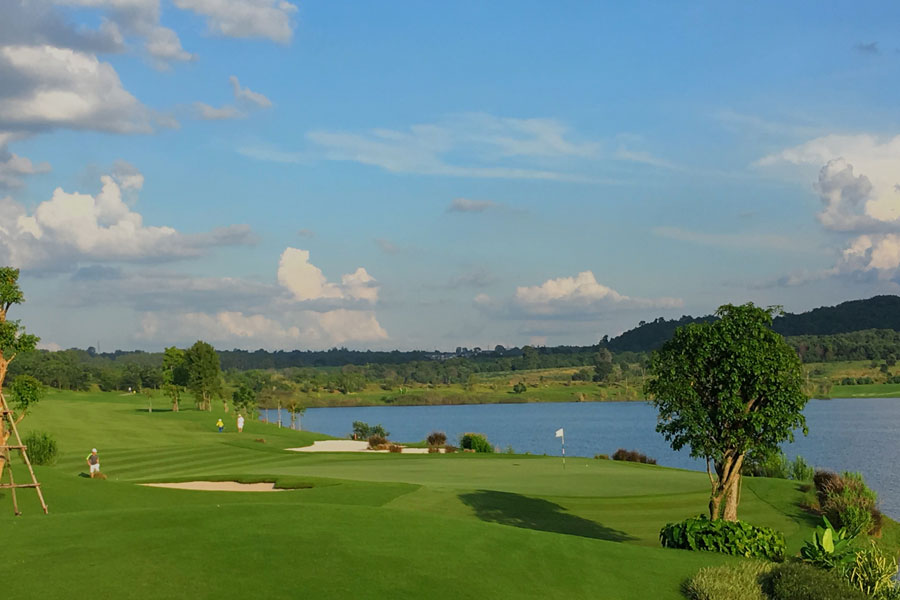 Having come down the 18th fairway and finished on the green in-front of the clubhouse, it is time to head inside the modern structure and enjoy the great views of the golf course while enjoying Thai or international cuisine from the restaurant. When looking at how to organise a Pattaya golf tour, the Waterside Course at Siam Country Club is a great place to start.
The great thing about organising a Pattaya golf tour is so many of the golf clubs are located within easy reach of the town, you can use it as a base and travel out each day. Therefore, you can include the Plantation Course and Old Course at Siam Country Club later in your golf tour, without any trouble at all and both courses are very good and worth adding to your itinerary.
The following day, why not head to Burapha Golf Club? It is just 30 minutes away from central Pattaya and a former member only course, designed in 1993 David Graham and Gary Panks. This course has hosted several professional tournaments, including the 2010 Thailand Open so you know you are following in the footsteps of some of the best players in Thailand and Asia.
Burapha Golf Club has hosted several professional tournaments, including the 2010 Thailand Open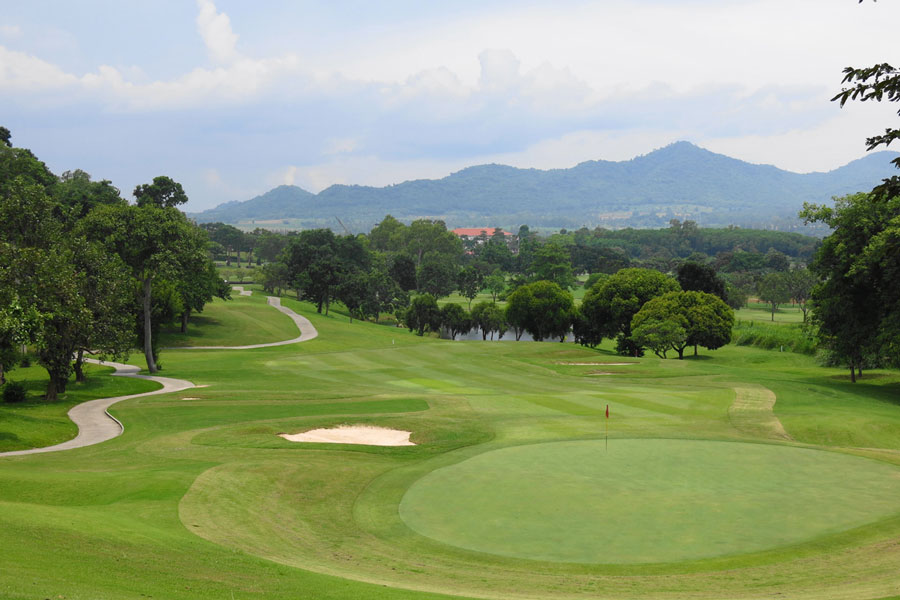 There are 36 holes to enjoy at Burapha Golf Club with the East Course featuring wide fairways and the West Course providing more of a challenge for more experienced golfers. Each course is well maintained and combines both parkland and links style golf, amongst lush, jungle-clad hills in the Thailand countryside. There are four sets of nine holes, with the American and British nine being parkland style holes and the Crystal and Dunes being more open, much like links style holes. When playing this course, you will notice the elevated tee boxes, which give lovely views of the holes around the course and into the distance. The greens come in various sizes but are mostly well-guarded by bunkering and semi-rough. Having completed your round, the clubhouse provides a good choice of local and international food in addition to other facilities, such as a swimming pool, tennis courts and gym.
At this stage, it is important to point out that when organising a Pattaya golf tour, you should always aim to include some free days. While you want to play as much golf as possible during your stay, you also want to enjoy some of the other things this region of Thailand offers. There are beaches, boat trips and wildlife excursions to enjoy and you can easily come back to playing golf the following day, feeling refreshed and ready to take on the next challenge.
For the next challenge, we recommend playing Khao Kheow Country Club, which is the only Pattaya golf course to be designed by Pete Dye. This 27-hole course was established in 1992 and is located 45 minutes away from Pattaya town. Due to its location, this is a golf course you could play on your way to Pattaya from Bangkok or vice-versa if you so choose. The main difference between this course and many others in the area is the changing elevation throughout the round and with often windy conditions and plentiful water hazards, good shot making is required to score low at Khao Kheow Country Club.
Khao Kheow Country Club is the only Pattaya golf course to be designed by Pete Dye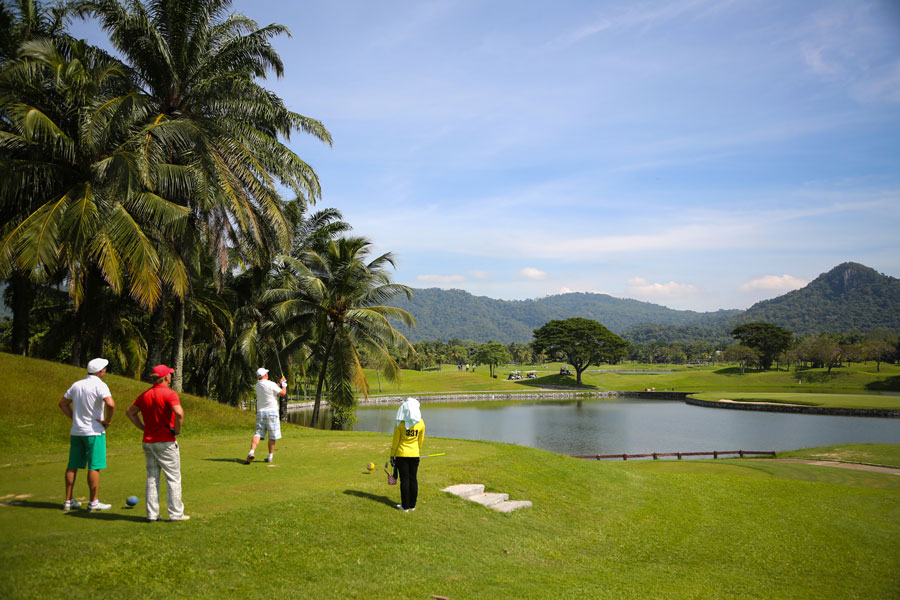 The greens on this golf course are very undulating, so you will want to pay special attention to pin location when playing approach shots. Anything which is on the wrong level of the green will leave you with a very difficult putt. The excellent maintenance of this golf course, makes it a good one to add to a Pattaya golf tour, whatever time of year you decide to play. The clubhouse has everything you need and being reasonably priced, Khao Kheow Country Club makes a good value addition to any golf tour of the Pattaya region.
Regarded by many as the best layout in Pattaya, you cannot organise a Pattaya golf tour and leave Laem Chabang International Country Club off the list. This Jack Nicklaus designed course is one of Thailand's best golf courses and combines a mix of terrain, including lakes, mountains and valleys to create 27 fantastic holes of golf. The course is set-up in three sets of nine holes, each of which includes one of the three above mentioned features throughout. Therefore, the Mountain Course plays around many hills, with several changes in elevation across the course and the Lake Course has many water hazards, with a stream meandering across most of the holes. The third set of nine, the Valley Course, is the longest and situated in the foothills of the local mountains.
Laem Chabang International Country Club is a challenging golf course with offers great variety and every Pattaya golf tour should include a visit here.
Other golf courses you should include when looking how to organise a Pattaya golf tour include Phoenix Gold Golf and Country Club and St. Andrews 2000 Golf Club. The former boasts great views over the Gulf of Thailand and was home of the 2016 Kings Cup, which was a joint European and Asian Tour event. For something a little different, head to St. Andrews 2000 Golf Club, which features stunning undulating natural landscape, replicating a traditional Scottish links course and two par-6 holes. This is another golf course which is under an hour away from Pattaya town, so can easily be reached within a day from your accommodation.
With so many tremendous golf courses to choose form, when organising a Pattaya golf tour, you must ensure you know what to expect in terms of the weather when you arrive. If you plan ahead and book at a time which is best for you and your group, you will not be surprised by the conditions when you arrive. With most of the top Pattaya golf courses situated near the town, you can base yourself at one of the top hotels or rent an apartment or villa and head out to a different golf course every day or plan a couple of free days in-between your golf. We have introduced the golf courses which are considered a 'must play' when in Pattaya and you can add them to your tour, while enjoying everything else this exciting region of Thailand offers its visitors.