Dalat has a distinctive temperate climate and is often referred to as the 'City of Eternal Spring'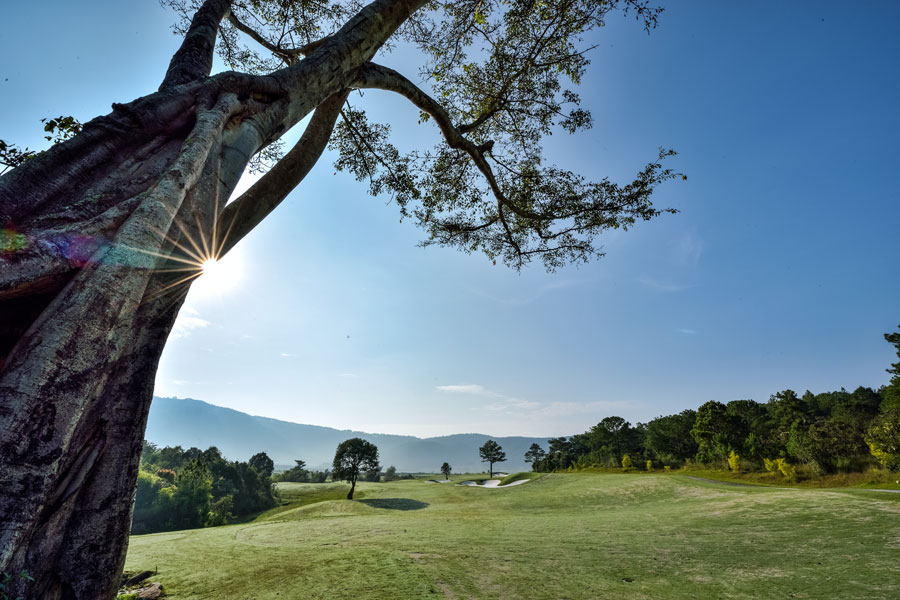 Dalat is in Vietnam's southern central highlands and is the capital of Lam Dong Province. In comparison to many other areas of Vietnam, Dalat has a distinctive temperate climate and is often referred to as the 'City of Eternal Spring'. Due to the weather being spring-like and relatively cool, Dalat is surrounded by pine forests, lakes and waterfalls.
Having been founded by the French, who wanted to escape the heat of Saigon, the town features many French Colonial style buildings, which have since been added to by the Vietnamese. The holiday homes left behind by the French, give Dalat a feeling of a European town and many Vietnamese tourists visit, as its commonly known as being the honeymoon capital of Vietnam.
The horse-drawn carriages, Valley of Love and fields growing fruit and vegetables, such as strawberries, cabbage and cauliflower, make Dalat a very distinctive region of Vietnam and one which differs greatly from much of the country.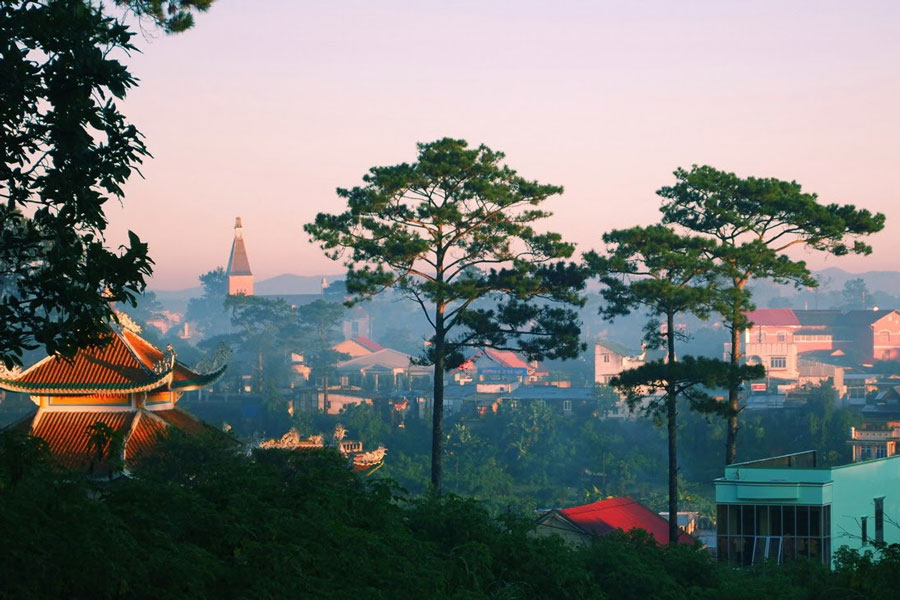 To reach Dalat from outside Vietnam, you will need to arrive at one of the other major city airports, such as Hanoi or Ho Chi Min. Depending on whether you are coming from outside Asia or from within the continent, this will change your flight options but the two cities mentioned above are a good starting point for travelling to Dalat. From the likes of Hanoi and Nha Trang, it's possible to catch a bus to Dalat, which takes about 9 hours and 4 hours respectively. Perhaps the better option is to catch a connecting flight using Vietnam Airlines or Vietjet Air, which will take you directly to Dalat Airport and from there it is easy to get a taxi or even better, pick up a hire car. We suggest the connecting flight and hire car options as this will be easier when transporting your golf clubs and for reaching the great selection of golf courses in this region of Vietnam.
Some of the great sites you can expect to see when staying in Dalat include Xuan Huong lake, Da Lat market, Nha Tho Domaine de Marie, Thien Vien Truc Lam Monastery and the three palaces. It's the latter which is of extra-special significance, as one of these palaces encompasses the Dalat Palace Golf Club, which was built in 1922 for the last emperor of Vietnam Bao Dai, to practice his golf skills.
Dalat Palace Golf Club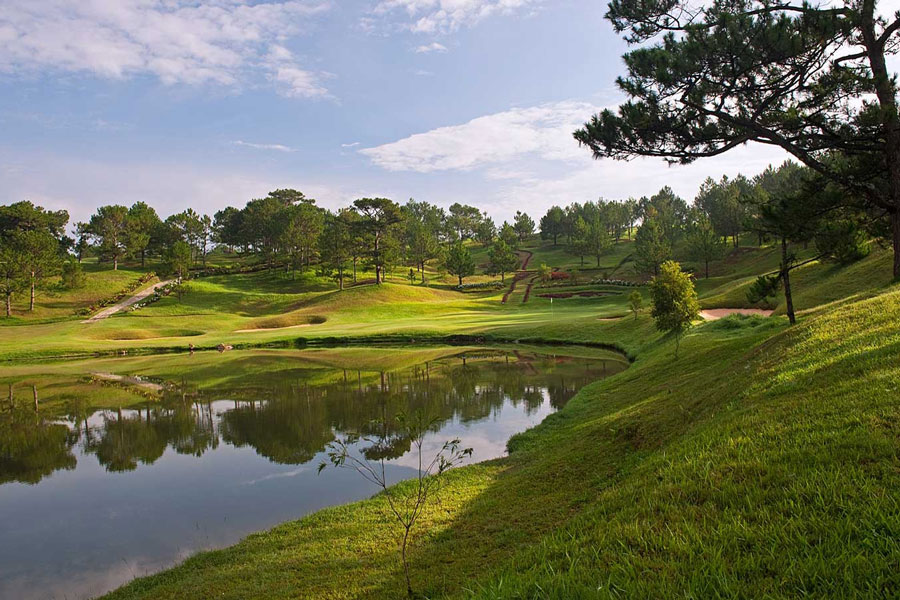 Dalat Palace Golf Club is an awesome sight, situated 5,000 feet above sea level and plays downhill from the highlands, towards Xuan Huong Lake. Having opened in the 1920's as a 9-hole course, it was the emperor who finished the construction of the 18-hole course but it was closed after World War II. Despite having re-opened briefly in the early 1960's, it wasn't until after the reunification of Vietnam, that the golf course was fully renovated and in 1994 it opened again, to great acclaim. The fantastic layout of Dalat Palace Golf Club, in addition to the many elevation changes and bent grass greens, the only course in Vietnam to feature these, make it arguably the best golf course in the country. Thanks to the cooler climate, this is the only golf course which offers bent grass greens, fairways and tees in South East Asia and it is maintained to an impeccable standard. Playing to just over 7,000 yards, a series of lakes which come into play on 10 of the 18 holes and well placed bunkers, provide the greatest challenge but the wide-open fairways offer some relief to the higher handicap players in your group.
The restored clubhouse, which was first open in 1956, comes complete with a lovely restaurant, offering both Vietnamese and international dishes, plus a well-stocked pro shop and wood burning fireplace. In 2007, Asian Golf Monthly ranked Dalat Palace Golf Club inside the top 10 golf courses in Asia and it is still one of the best today. If you only have time to play one golf course in Dalat, make it the Dalat Palace Golf Club, you will not be disappointed.
The Dalat at 1200 Country Club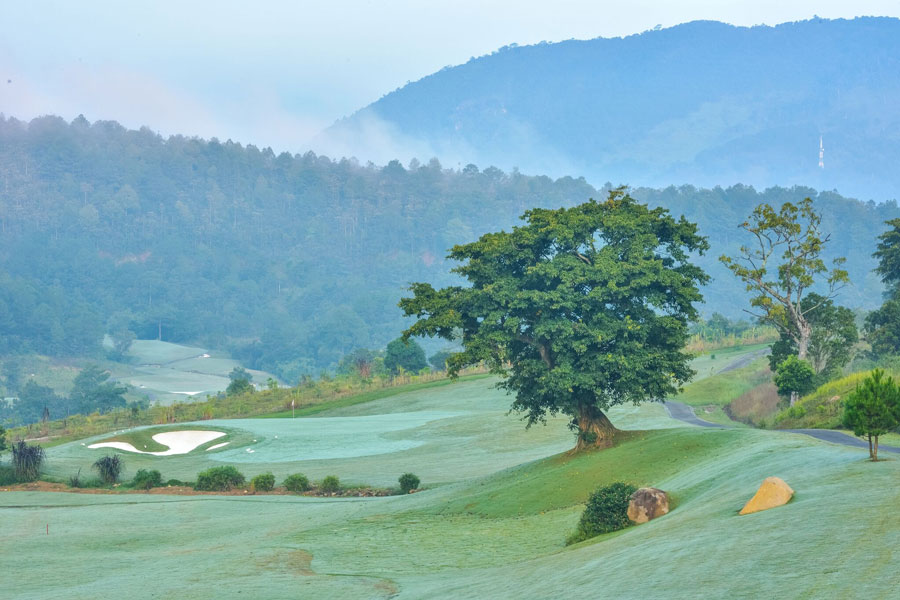 If you are arriving into Dalat via the airport and cannot wait to get on the golf course, The Dalat at 1200 Country Club is the perfect option. Designed jointly by Peter Rousseau and Kyi Hla Han, this golf course was established in 2014, making it one of the more modern golf offerings in this region of Vietnam.
Based upon 25,000 acres of hilly pine forest and surrounded by a large, natural spring lake, you can be forgiven for thinking you were playing golf in Switzerland, due to the alpine nature of the region. Thanks to the altitude of between 1,200 and 1,600 metres, it's possible to play golf at all times of the year, with temperatures rarely exceeding 25 degrees. Playing to 7,650 yards, expect the distances between tee and green to be long on many of the holes and in addition to the undulating nature of the land, this makes the 18-hole golf course very challenging, for players of all abilities. Being the first golf club to be officially recognised as an Asian Tour Destination, the facilities are second-to-none.
In addition to the tremendous golf course, there is an onsite Asian Tour Performance Golf Institute, boasting the latest technology, such as golfing simulators and natural turf hitting bays, short game facility and 350-yard flat driving range. The new, modern clubhouse boasts locker rooms, a pro shop, a restaurant serving world-class cuisine, lounge bar, library and patio and terrace areas. The clubhouse also offers accommodation, so if you would like to stay at the course and sample the other activities which are available, such as horse riding and kayaking, The Dalat at 1200 Country Club is a great option. You will struggle to find a better, all-round golfing experience in the whole of Vietnam.
Sacom Tuyen Lam Golf Club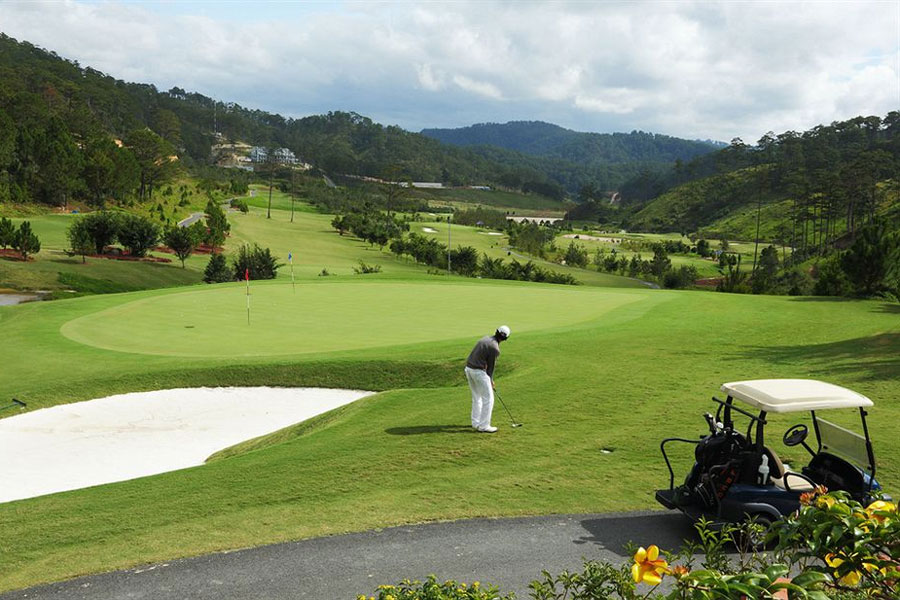 Despite being the furthest golf course away from the centre of Dalat, Sacom Tuyen Lam Golf Club is still only 15 kilometres away and can easily be reached by car or taxi. Sitting in a deep valley, this course is a Canadian design and opened for play in 2014. Surrounded by large mountains and pine trees, the climate remains cool throughout the year and the countryside makes for a lovely backdrop to a round of golf.
However, you must be on top form to get a low score at Sacom Tuyen Lam Golf Club, due to the narrow fairways. Many of the tee boxes are elevated, meaning you will be tempted to take out the driver but accuracy if of the essence on this golf course and if you do not find the narrow fairways from the tee, par will become very difficult to obtain. The greens are well guarded throughout and even if you are on the fairway, you will face a tough looking approach shot on several of the 18 holes.
The third hole is a great example of what to expect at Sacom Tuyen Lam Golf Club, with a tight dogleg right fairway, with out of bounds running along the right side. The green is protected by a large bunker and a small creek meanders across the middle of the fairway. You have a decision to make with your second shot, will you attempt to clear the creek or lay-up short and play safe? Keep in mind you will be out of bounds on the right, so sound decision making is vital. This is the type of challenge you can expect throughout the course and accuracy, in addition to making the correct choice of club and shot, are crucial to keeping your score down. Although this is a challenging golf course, it is great fun to play and you will have much enjoyment testing yourself from tee to green.
The clubhouse features a driving range, practice areas, locker rooms, a restaurant and 12 guest rooms, if you decide you would like to stay overnight. Furthermore, there are villas and a 5-star hotel close by, which offer stay and play options and this is a great way to enjoy top quality Vietnamese hospitality, coupled with a great round of golf.
There are several great reasons to stay in Dalat to play golf. The climate is perfect and the local people and scenery are wonderful. However, the golf courses are something special and you must play them, to really appreciate what they offer. Not only are Dalat's golf courses top quality and complete with world class facilities, they are all within close proximity of each other. Therefore, you can base yourself in Dalat itself or at one of the golf courses and enjoy the other courses, without having to travel very far. In terms of a golf holiday, Dalat is hard to beat.