Vietnam Weather Overview
"The ideal time to play golf in Vietnam is in the spring (Feb-Apr) and the autumn (Aug to Oct)"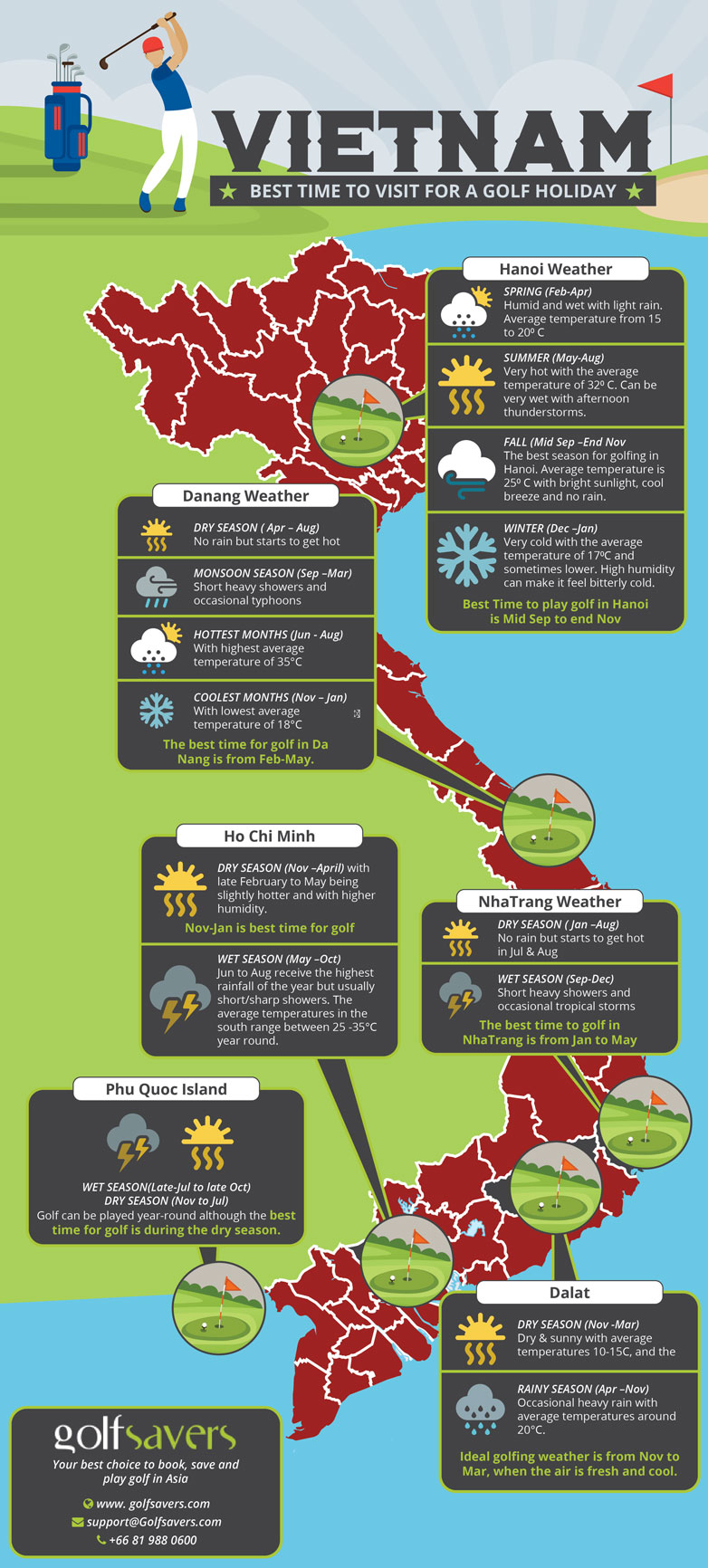 The ideal time to play golf in Vietnam is in the spring (Feb-Apr) and the autumn (Aug to Oct). At these times the temperature is more bearable with little rainfall. The driest time to visit is March and April when it usually doesn't rain and the temperatures are very pleasant although it can still be a bit chilly in the far north.
If you are planning to visit the entire country then life gets a bit more complicated because the country runs north to south and is more than 1,000km long so it passes through several different weather zones. Having said that it is still possible to travel to Vietnam at any time but you need to be prepared for the different weather conditions you will face and we hope that this article will help you with your planning.
Hanoi Weather
"If you have a choice the perfect time to visit Hanoi is in October and November"
Typically, Hanoi experiences hot summer months with plenty of rain and dry and sometimes very cold winters. The so-called spring season from February to April means high humidity and occasional light showers. The Summer in Hanoi which roughly lasts from May to August has plenty of tropical rain which usually falls in short bursts in the afternoon and also lots of sunshine and temperatures hovering around 32⁰C (90⁰F). Summer weather in Hanoi is becoming more and more unpredictable with some summers quite dry and others very wet.
If you have a choice the perfect time to visit Hanoi is in October and November with temperatures around 25⁰C (70⁰F) with lots of sunshine and virtually no rain. During the winter from late November to February the temperature drops to around 17⁰C and can feel very cold – it doesn't rain too much but it can be quite foggy with low clouds and not too much sunshine. If you are planning a golf holiday to Vietnam during Hanoi's winter then you will certainly need to pack some cold weather golfing gear.
Danang and Hoi An Weather
"The best time for golf in Danang is from Feb to May"
The beautiful coastline around Ho An and Danang is warm all year round with temperatures getting as hot as 38⁰C (100⁰F) in July and August and then dropping as low as 18⁰C in November to January. There is little rain between February and July but from the beginning of August until early November the rainfall increases and the area is also prone to the occasional tropical storm.
Nha Trang Weather
"The best time to golf in Nha Trang is from January to May"
Nha Trang is blessed with year-round temperatures of 30°C (86°F) and you can visit and play golf here all year round. The summer usually begins in May with bright sunny days but any time in the first nine months of the year is usually Ok. It does start to get very hot here in late June so if you do not like extreme heat then avoid July and August. The perfect time to plan a golfing trip here is between February and April when temperatures hover at a very bearable 27°C (80°F). There are only four really wet months here and you should try and avoid September to the middle of December. However, Nha Trang lies right in the middle of the Typhoon belt it can sometimes be affected by these and other tropical storms from September to January when it can be pretty miserable with overcast skies and persistent heavy rain. The weather authorities track these storms and can usually predict where and when they will hit so tune into the local weather forecast and change your travel plans if necessary.
Dalat Weather
"A perfect place to play golf in Vietnam with year round temperatures from 16°C (60°F) to 24°C (75°F)"
Of all the golfing destinations in Vietnam, Dalat has the most predictable weather which is a little surprising since it is set in the mountains about 1,500 metres above sea level. This is the perfect place to enjoy golf in Vietnam with year round temperatures hovering between 16°C (60°F) and 24°C (75°F). You will get some rain during the summer months and Dalat gets "invaded" by locals escaping the heat and it can get very crowded between June & August and this is also the time when you can expect the most rainfall.
Ho Chi Minh (Saigon) Weather
If you are playing golf in Ho Chi Minh then November to January is the best option
Ho Chi Minh is much further south and being closer to the equator its weather is warm all year round with average daytime temperatures of 28°C (82°F) – not unlike most of Thailand. The season are basically divided into two: the wet season and the dry season.
The wet season starts in May and lasts until the latter part of November and at this time you can expect short, sharp showers – especially in the late afternoon. This is still good golfing weather and unless you are very unlucky you will not be totally rained off and may have to pause for a short time to let the storm pass. Make sure that you pack your raingear and a rain cover for your clubs and take plenty of spare gloves.
The rains stop in December and the dry season lasts until April and although you should note experience any rain, the temperature will rise to around 32°C (90°F). If you are playing golf at this time probably best to opt for an early start time to avoid the worst of the heat.
Phu Quoc Island Weather
"Any time is a good time to play golf in Phu Quoc"
Phu Quoc island has very similar weather to central Thailand with a rainy season from April to October and a dry season from November to March with bright sunny days and temperatures around 25-28°C (77-82°F).