Generally speaking, any time is a good time to play golf in Thailand and Bangkok is no exception.
However, we do not all have the luxury of being able to pack our golf clubs whenever we feel like it and head over to a great golf destination, such as Bangkok and play golf as and when we please. Travel dates are usually determined by work schedules and family matters, meaning free time for a golf holiday is a rare commodity and you will want to pick the best times to ensure you have a great experience playing golf in Thailand. So, with that in mind, what is the best time to play golf in Bangkok?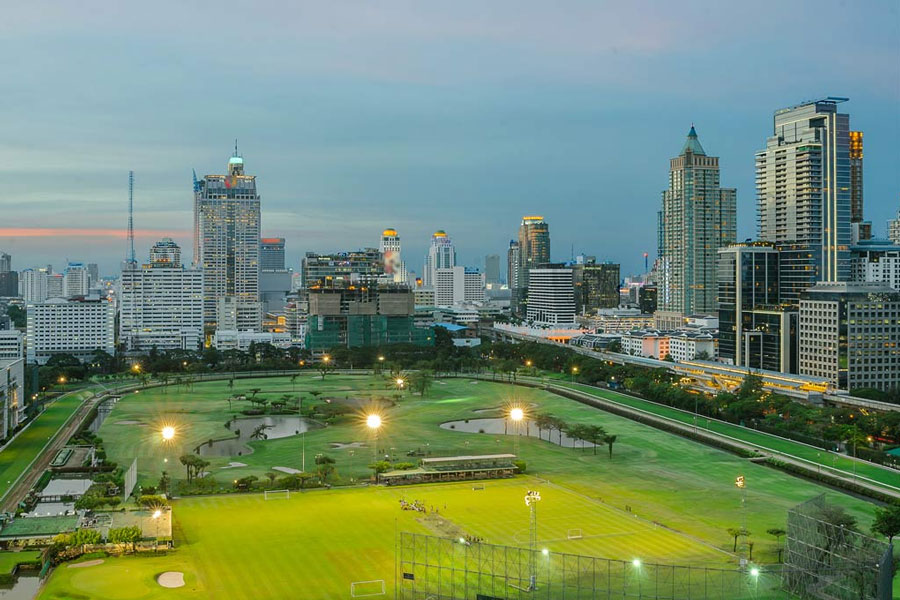 Weather in Bangkok
When planning a time to play golf in Bangkok, there are two things you need to take into consideration. The weather and the cost of accommodation.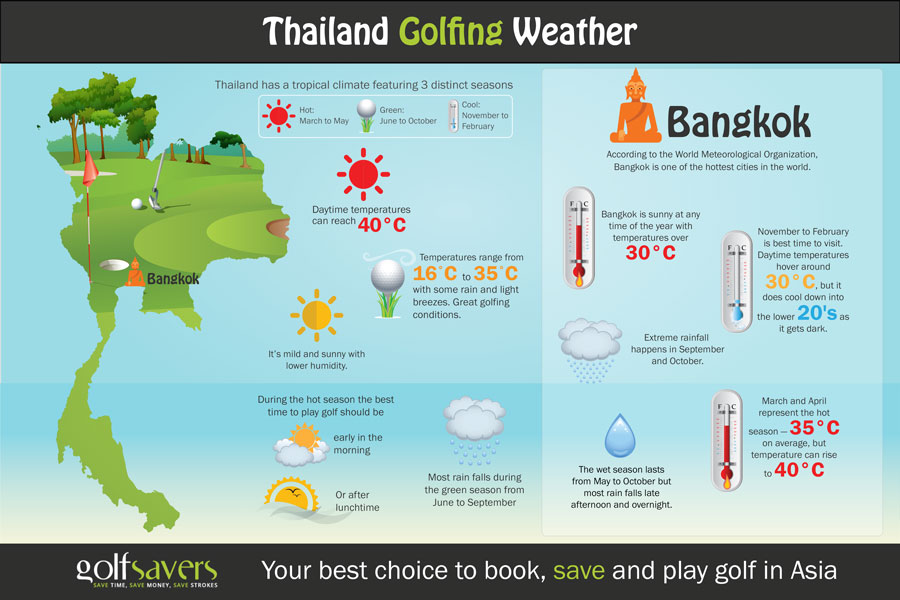 When playing golf in Bangkok, you must be prepared for the weather to be hot and humid. If you ask people who live or visit Bangkok regularly when to play golf they will tell you there are three seasons to look out for during the year and they are hot, very hot and extremely hot. Therefore, there is no specific good or bad time to visit Bangkok for a golfing holiday. However, joking aside, there are three seasons in Bangkok which can easily be defined and this will help you when planning on playing golf in and around the capital city of Thailand.
From late May until late October or early November, it is the rainy season in Bangkok. It remains warm and humid during these five or six months, with rain showers on most days, many of which are concentrated in the afternoon. While the showers tend to be over quite quickly, there are occasional storms, which can be very dramatic and this will see the rain come down very heavily but again, usually for a short period in the afternoon. As a golfer, there is no need to worry about the wet weather, as things dry up very quickly due to the heat and even if a thunderstorm does erupt during a round of golf in Bangkok, you can easily take shelter and quickly resume your round when the storm has passed.
Night Golf in Bangkok
If you find it too hot to play golf during the day then you can always play at night under floodlights - its much cooler and you will save money as well.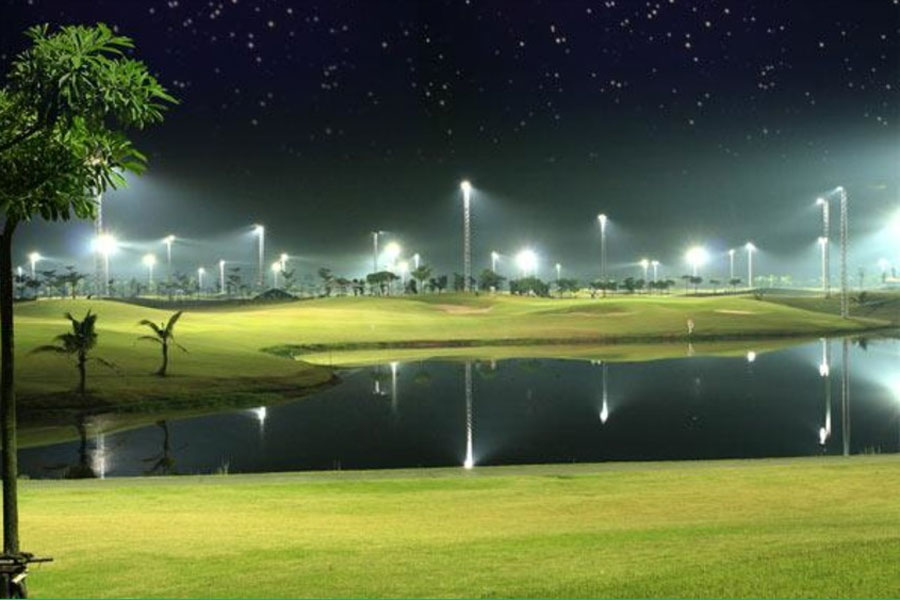 In fact, late May to early November can be a great time to visit Bangkok for golf. The rain showers can be refreshing and will often cool things down, all be it for a short amount of time. If you can plan your round of golf for late in the afternoon or early in the morning, you will find the temperatures at their best and avoid much of the wet weather. Perhaps an even better option is to play in evening round at Summit Windmill Golf Club, they have floodlights installed, so you play late into the night. If there has been a thunderstorm in the afternoon, which has put pay to your golfing plans, why not head to Summit Windmill Golf Club in the evening, where you can still enjoy a full 18-hole round of golf, without having to worry about the sun going down?
Save money on Bangkok Tee Times
If you want to enjoy cheap golf in Bangkok then its best to visit during the low season which runs from 1st April through until thre end of October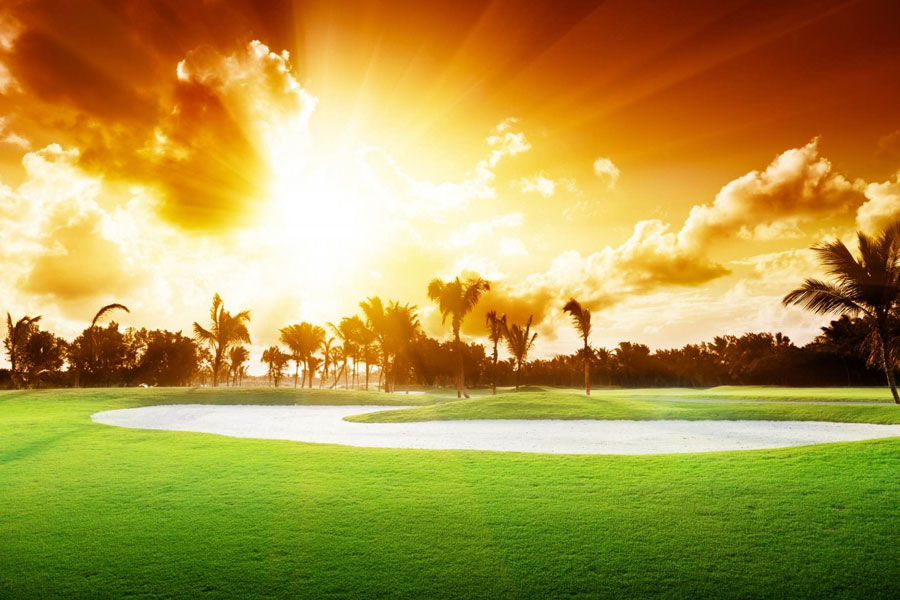 The other reason why the wet season of late May to early November is one of the best times to play golf in Bangkok, is the cheaper hotel prices. As this part of the year is known as the 'low season' in Bangkok, many hotels and golf resorts will lower their prices, to try and tempt people to book when it is quiet. Therefore, this is the perfect time of year to book a golf holiday in the Bangkok area, if you want to save some money or your budget is tight. Bangkok golf courses and resorts will be running special offers and you may be able to get more golf for your money at this time of year and stay in a better quality hotel or resort. If budget is a factor, the best time to play golf in Bangkok for you would be between May and November.
Great deals at some of the best golf courses in Bangkok
With less visitors in Bangkok, you will find many of the sites have less people visiting them and they become much more accessible and the same applies to the golf courses. Even the top Bangkok golf courses, such as Alpine Golf and Sports Club, Lam Luk Ka, Subhapruek Golf Club and Thai Country Club are quieter during this time of year, meaning you will have more time to enjoy your round of golf in Bangkok, than at other times of the year, when extra people are on the golf course and your speed of play becomes important. Having the opportunity to play some of the best golf courses, not only in Bangkok but the whole of Thailand, is something not to be missed. Courses designed by the likes of Pete Dye, Nick Faldo, Robert Trent Jones Jr and Greg Norman are all open for play in the Bangkok area during the wet season and should be regarded as a must-play.
Perhaps the one time of year you do not want to book a golf holiday in Bangkok is between March until the middle of May. Fortunately, it's only a short period, so this will not impact on most people's plans but if you can, you should attempt to avoid the 8 weeks between March and May, as it is not the best time to play golf in Bangkok.
The weather can be extremely hot and although some of the locals, who have become adapted to the conditions, will still be out enjoying themselves and playing golf, visitors who not use to the extreme temperatures will struggle. In terms of playing golf, very early in the morning or late afternoon/early evening would be the best times but even then, it will still be very hot. The difficulty comes when losing energy and fluids and having to remain hydrated around the golf course. Many visitors find they are drained having played a few holes and you do not want to be struggling around the golf course, when you should be enjoying yourself. Thankfully, as mentioned above, the very hot season in Bangkok does not last very long and most people can book their golf trips during the several other months which are available throughout the year.
The very best time to play golf in Bangkok must be between late November and mid-January. For people who live in Europe and North America, this is perfect because the weather across much of those continents is very cold and wet, making golf unplayable at times. However, in Bangkok the weather is cooler than at other times of the year, sometimes dropping below 20 degrees at night and this makes it the perfect time to play golf.
The term 'cool season' which is often used to describe this time of year between late November and mid-January can be a little misleading for many people because the weather is not really cool. In fact, temperatures can still reach 30 degrees or more but in comparison to other times of the year, this is cool and not only that but the risk of wet weather is severely reduced. This means you do not have to be worried about getting caught in a storm when playing a round of golf in the afternoon. You can relax when booking your golfing holiday at this time of year, knowing you have picked the best time to play golf in Bangkok.
It is very rare to have continuous rain during the low season - it usually rains hard for a short time and then clears up very quickly
The weather is guaranteed to be nice and sunny in Bangkok and the surrounding areas, so you will get full value for your golf break. There will be very little disruption to your plans because of the weather, meaning you can create the perfect Bangkok golf itinerary with confidence, knowing the weather is going to be ideally suited for the golf course. You could book a golf break and stay at one of the many golf resorts in and around the city of Bangkok, with Le Méridien Suvarnabhumi, Bangkok Golf Resort and Spa being one of the best available.
Golf Resorts in Bangkok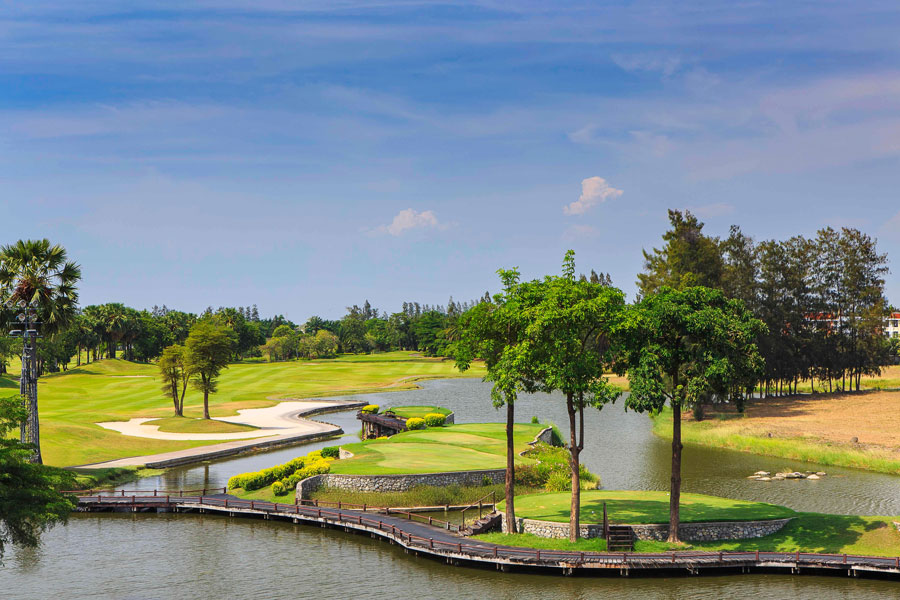 At Le Méridien Suvarnabhumi, you can expect the finest accommodation, with rooms boasting a large balcony over the golf course. In addition to the golf, there are several other fitness and leisure activities available, including an outdoor swimming pool, tennis courts, fitness centre and spa. By booking your Bangkok golf break between late November and mid-January, you will be able to fully immerse yourself in these activities but most of all, you can enjoy the 18-hole golf course, in all its glory. The golf course and resort is perfectly situated between Suvarnabhumi International Airport and Bangkok's city centre, so when you arrive in Thailand, it will only take you a few minutes to reach the resort, having left the airport. You are then in prime position to enjoy a round of golf whenever you please and head into Bangkok, to enjoy the sights, meet the locals, try a restaurant and do some shopping. Furthermore, the golf course at Le Méridien Suvarnabhumi is floodlit, so if you want to take advantage of the great weather and head out for the day, you can still enjoy a full round of golf when you return in the evening. Between late November and mid-January is the best time to play golf in Bangkok because the weather is good and reliable, which means you can fit in more than one round of golf per day if you wish or go sightseeing and play a round of golf later in the afternoon or evening. The choice is yours.
However, although this time of year is considered the best time to play golf in Bangkok, you need to be aware of the prices and the number of other people who will be taking advantage of the dry weather and slightly cooler temperatures.
Hotel and golf resorts will be charging their highest rates of the year and therefore, you must be prepared to pay the top price for your accommodation. That's not to say everywhere in and around Bangkok is expensive, prices are relative and depending on what you are used to paying for a five-star hotel or golf resort elsewhere in the world, you may find Bangkok and the surrounding area to be very good value. You should also keep in mind green fees are going to be more expensive at this time of year. It is the most popular time of year for golf in Bangkok and visitors and locals alike will be taking advantage of the dry weather and wanting to get on the golf courses as often as possible. This leads to golf clubs putting their prices up but again, the price of a golf break to Bangkok may still be a lot cheaper than elsewhere in the world and offer good value for money, so always keep that in mind.
Best Weather in Bangkok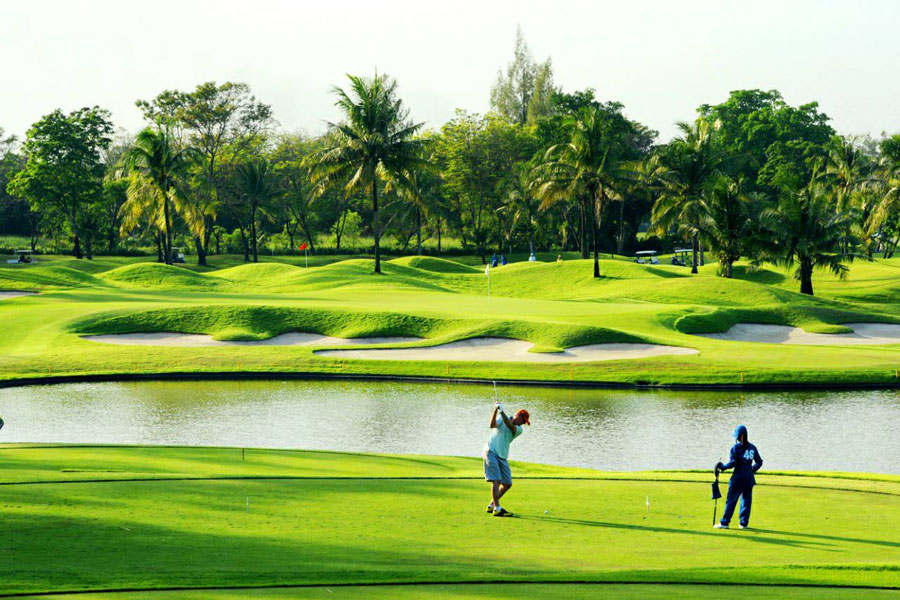 The golf courses are at their best between November and February and this means more people will be playing on them. That being said, for those who like to play golf all year round, this will be nothing new and you will still be able to enjoy a great round of golf with friends and family and not feel rushed around the course. Furthermore, as mentioned above, there are several golf courses which have floodlights, such as the Summit Windmill Golf Club and Le Méridien Suvarnabhumi, so the hours of play are extended and this will spread the number of golfers across the day and into the night, keeping the courses less crowded than they otherwise would be.
Therefore, for the best golf course conditions and guaranteed good weather to enjoy a round of golf whenever you please, late November and mid-January is considered to be the best time to play golf in Bangkok. You must expect to pay higher prices for things like accommodation and green fees but is well worth it, especially considering the quality of the golf courses available in the area. Even if you fancy having a go at one of the most well-known and exclusive golf courses in the world, the Augusta National, you can do that in Bangkok. The Royal Gems Golf City is just an hour away from the centre of Bangkok and is a fantastic combination of the best holes from around the globe and the back nine holes of The Masters, the most prestigious golf tournament in the world. So, if you have ever fancied challenging yourself on the famous 17th island hole at TPC Sawgrass, the Postage Stamp from Royal Troon Scotland or Amen Corner at Augusta, you can do that at Royal Gems Golf City. Make sure you book your round during the high season, to fully appreciate everything this golf course has to offer.
If you cannot make it to Bangkok to play golf at this time of year, you should seriously consider booking between late May until late October or early November. Yes, there will be some wet weather around but the temperatures are easily manageable and the prices are lower than during the peak period. Furthermore, there will be less people using the golf courses, making this one of the best times to play golf in Bangkok. Just be prepared with an umbrella, as you might be caught in a shower in the afternoon but if it is not too heavy, this can be quite refreshing and will not prove much of a distraction to your golf.
Bangkok is a great destination in Asia for a golf break and there are many excellent golf courses and resorts to choose from. With the top Bangkok golf courses open and the weather good for much of the year, you are sure to have a great time playing golf in this region of Thailand. Using this guide, you can plan your Bangkok golf holiday to suit your own schedule and that of the climate, ensuring you will enjoy the perfect conditions when on the golf course.