Located in Indonesia, there are a number of great reasons why Bintan is the perfect place for a golf holiday. We have taken the best 10 reasons to visit Bintan on a golf holiday and listed them below. Once you have looked over them, we are sure you will be ready to book your next golf holiday, on this fantastic island.
1. Easy Access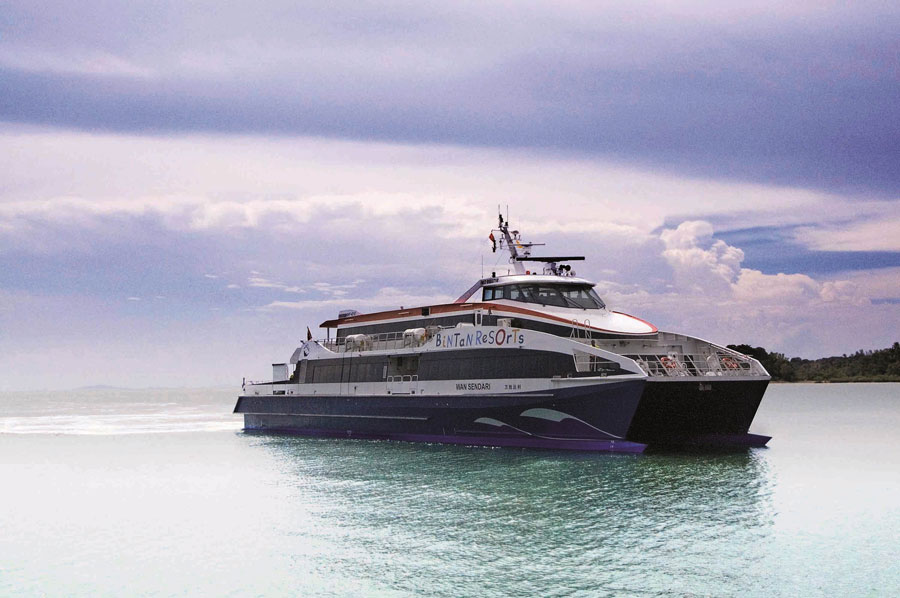 Despite being an island on the South China Sea, Bintan is very easy to reach, all it takes is a short crossing on one of the frequent ferries from Singapore. There is a regular service throughout the week and weekend, with crossings taking under 1.5 hours. Singapore can be reached via direct international flights from around the world, so getting to Bintan could not be easier.
2. Simple Visa On Arrival Process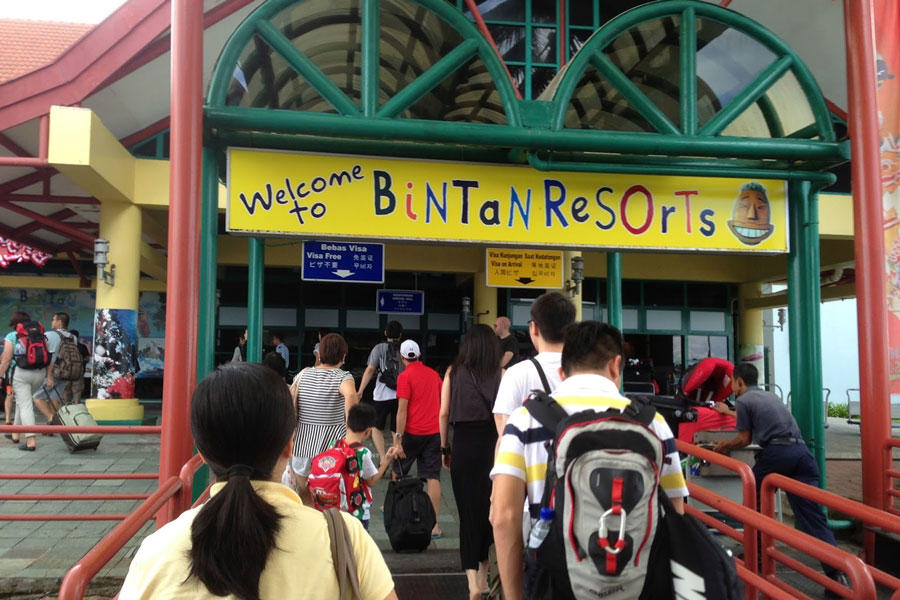 A huge number of people can now enter Bintan, without the need to apply for a Visa in advance. Not only does this save money, it also saves a lot of hassle and makes a golf holiday to Bintan, stress free. At the time of writing, it is only Libyan nationals who are required to apply for a Visa to visit Bintan.
3. Great Beaches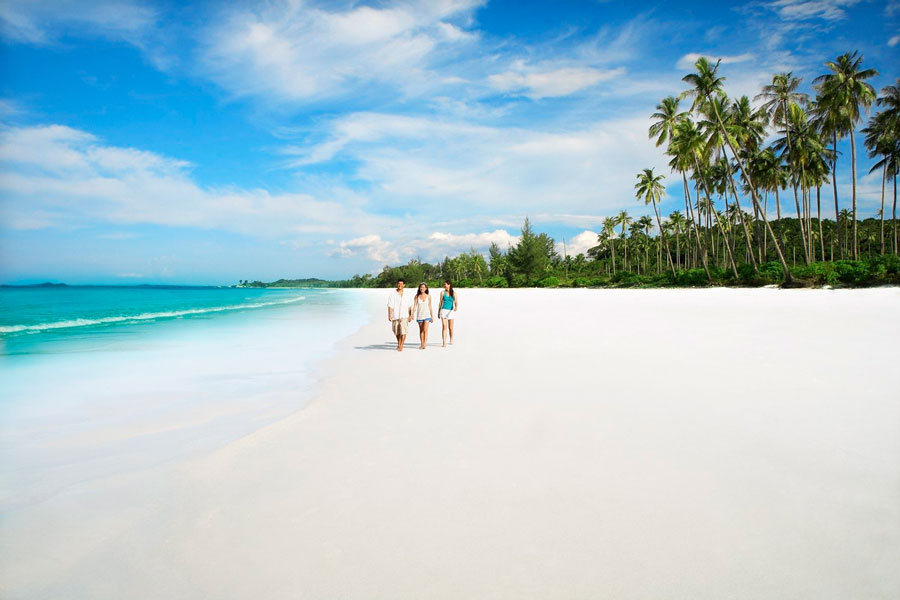 Although you will be spending plenty of time on the golf courses of Bintan, the beaches are a must visit when staying on the island. The beaches on Bintan are beautiful, clean, with lovely white sand and clear, blue water. Lagoi beach is perhaps the pick of the bunch but they are all worth visiting during a golf holiday to Bintan.
4. Wide Choice of Hotels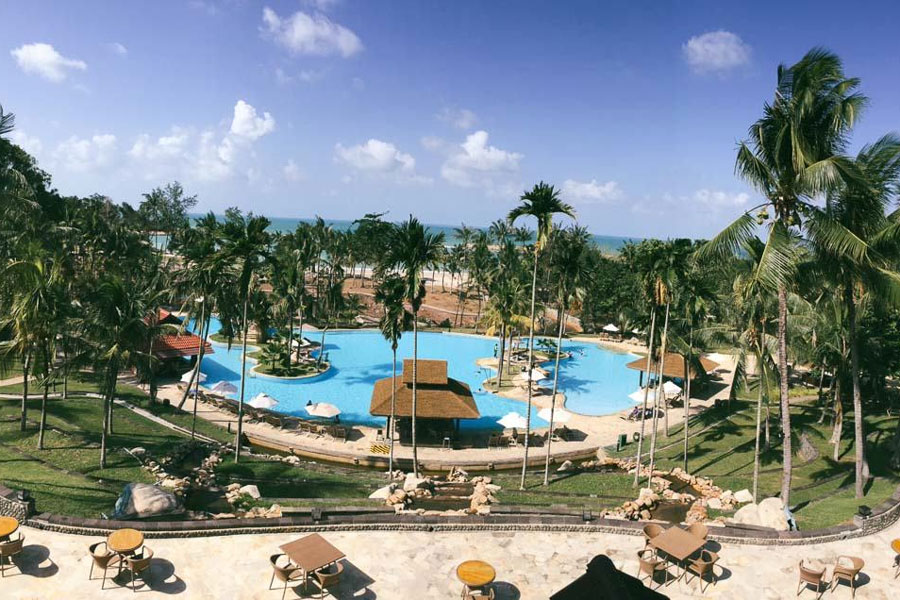 There are a number of excellent hotels in which to stay, during a golf holiday in Bintan. The majority of hotels offer a choice of rooms, from standard to suite and there are also plenty of villas to choose from on the island. The facilities and restaurants at the hotels are also good, including swimming pools, spas, Asian and Western cuisine.
5. Excellent Food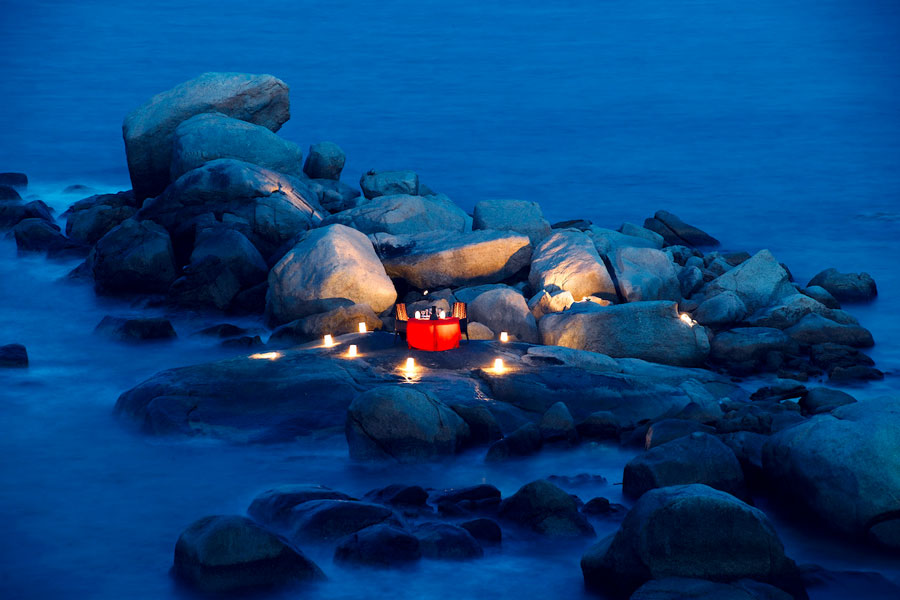 There is plenty of choice when it comes to places to eat on Bintan and the food on the island is great. Seafood is very popular because it is always fresh and crabs and prawns are usually on offer. Vegetables and fruit are also freshly prepared and you will never go wrong, whichever restaurant you decide to eat in. There is also a good choice of cafes, serving drinks and snacks throughout the island.
6. Wide range of activities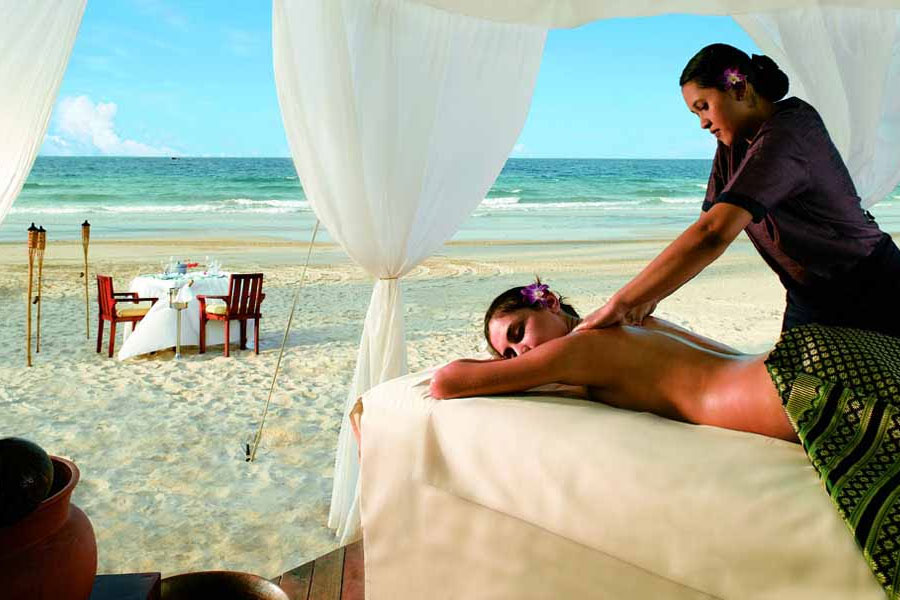 The golf courses on Bintan are superb but there are also a number of other activities available when visiting on a golf holiday. Why not take a walk around and soak up the history and culture of the island? There are also plenty of tours operating, which will give you a glimpse into local life. Snorkelling and diving are also options, in addition to boat trips and other water based activities. If you are looking for something more relaxing, why not sample one of the many spas on the island and treat yourself to a relaxing massage?
7. Ria Bintan Golf Club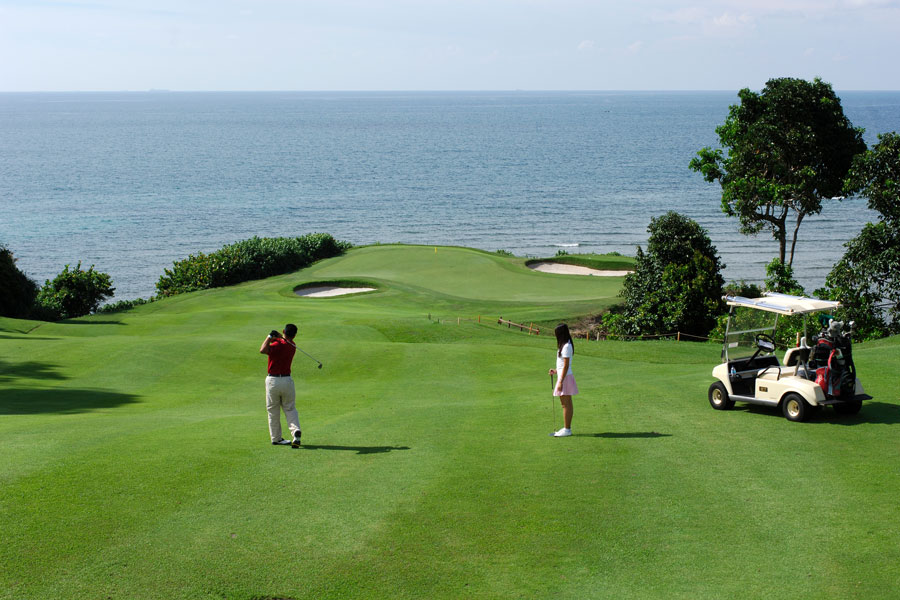 The best reason to visit Bintan on a golf holiday, has to be the golf courses and Ria Bintan Golf Club, has to be one of the best. Designed by Gary Player, the 27-hole championship course features a mix of holes through the jungle and across the coast. The stretch between holes 7 and 10 are marvellous and hard to beat in terms of views and structure of the holes.
8. Laguna Golf Bintan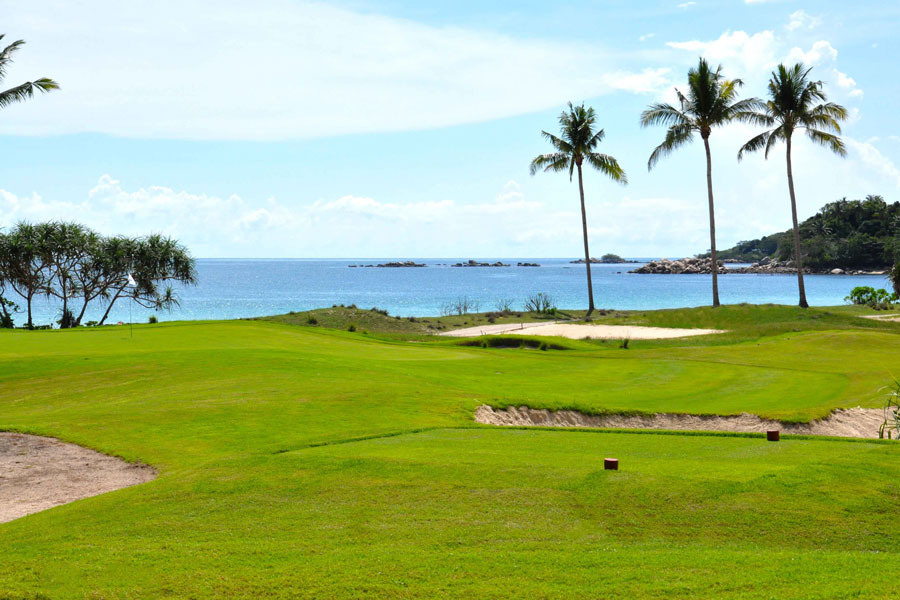 Laguna Golf Bintan is another great course on the island and it was originally designed by Greg Norman, before recently being updated. There are a number of different terrains to enjoy on this course, ranging from natural wetlands, to forests and beachfronts and it's the difference challenges you face, as you play your way around the course, that make it a real delight.
9. Bintan Lagoon Jack Nicklaus Course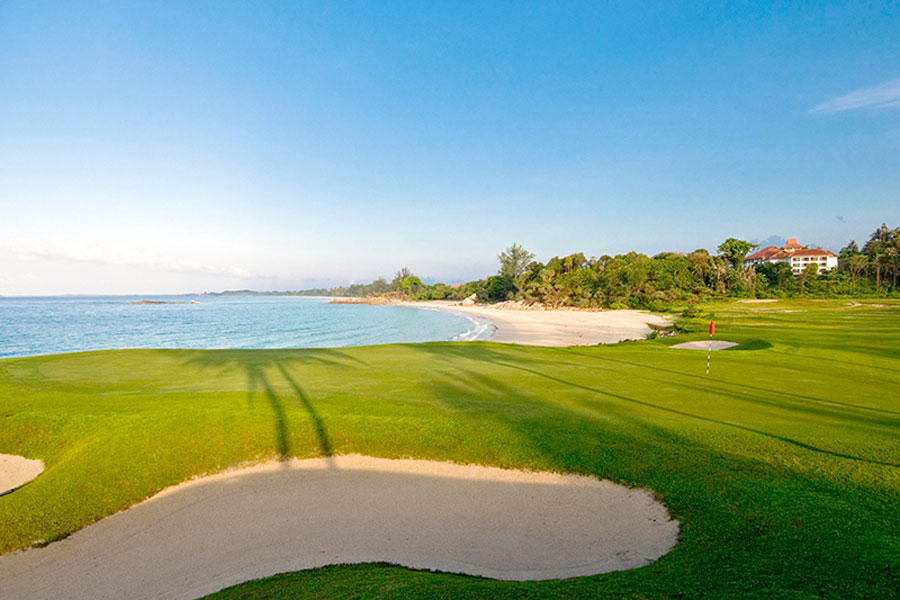 Bintan Lagoon is the home of two brilliant golf courses, one of which is the Jack Nicklaus Seaview Course. The 18-hole course is over 7,000 yards long and provides lovely views of the South China Sea throughout. The first nine holes plays through tropical jungle, with the back nine holes playing across the coast. The trademark Nicklaus bunkering is present throughout and sea breezes can add to the difficulty of approach shots.
10. Bintan Lagoon Ian Baker-Finch Course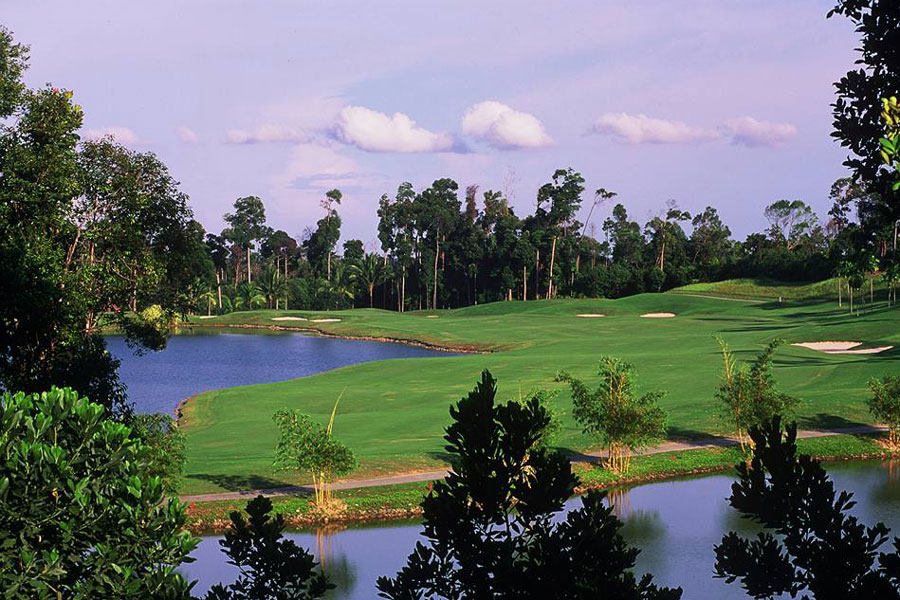 Our final reason to visit Bintan on a golf holiday, is another of the great selection of golf courses on the island. The Woodland Course, also part of the Bintan Lagoon resort, was designed by Ian Baker-Finch and is situated in a stunning natural rainforest. There are plenty of elevation changes throughout the course, with blind tee shots and uphill approach shots, adding to the difficulty of the course. With elevated greens, guarded by bunkers and water hazards, the Woodland Course is a fun and exciting challenge.